Zone 10 NAYC Teams to be Named Following Selection Trials at Blenheim EquiSports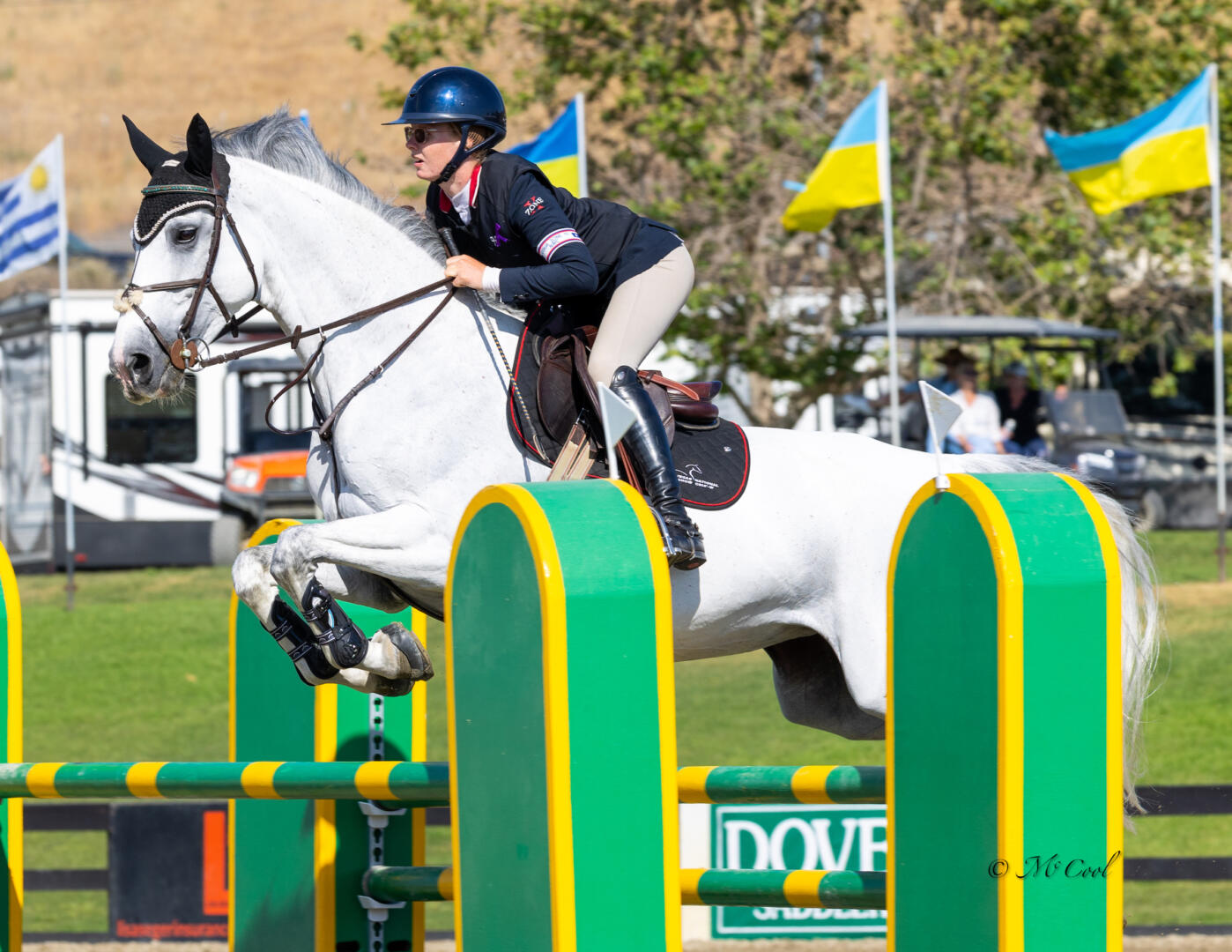 Skylar Wireman and Karen earned the first win of the Zone 10 NAYC Selection Trials at Blenheim EquiSports. Photo by McCool Photography
June 13, 2022 – San Juan Capistrano, CA – From June 8-12, Blenheim EquiSports welcomed many of the West Coast's top young riders to the Rancho Mission Viejo Riding Park for the June Classic I, host to the Zone 10 North American Youth Championships (NAYC) Selection Trials. 
Over the five days of competition, Young Rider, Junior, and Pre-Junior athletes each competed in a speed class and a two-round, jump-off class with the aim of securing spots on the Zone 10 teams for the NAYC, to be held August 8-14, 2022, in Traverse City, Michigan.  
Wireman and White Win in Junior Trials 
The first win of the Zone 10 NAYC Selection Trials went to Skylar Wireman, who rode Karen to a second-place finish, and the top Junior spot, in the $1,500 Horse Hair Analysis Open 1.35m North American Junior Championship (NAJC) Trial. 
Wireman and the 10-year-old Hanoverian mare, owned by MKT Investments LLC, crossed the finish in 58.840 seconds, just tenths of a second behind class winners Zoe Brown and Centuro, who finished in 58.546 seconds. 
"I thought today's course was really good," said Wireman on Thursday following her top placing. "There were a couple of inside turns and some room to gallop. The horse I'm on today, she is newer to the bigger height, and she's really decided that she likes to do the bigger stuff. I think she's a really good horse because she likes to go fast, and I don't really have to think about going fast, she's just naturally fast." 
Finishing as the runner-up Junior athlete in Thursday's 28-entry class was Hudsyn Horn aboard Gochka. 
The Junior athletes returned to the Grand Looke Arena for the $7,500 Riderzon Open 1.40m Jumper Classic/NAJC Trial on Saturday, and this time it was Della White on Giggs who earned the top Junior spot after taking fourth place overall in the class.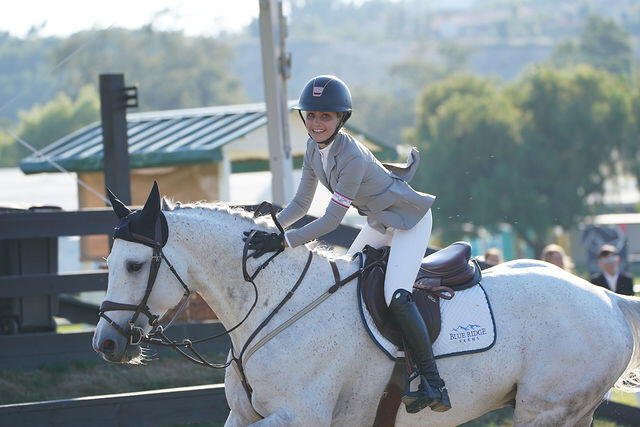 While two riders in the 23-horse class would produce clear rounds, neither was competing in the NAJC Trials, which meant the NAJC Trial win came down to a jump-off between the qualified four-faulters. 
In an exciting race against the jump-off clock, White and Giggs clinched the win. "I just planned my turns before to make tight turns so that I could be fast, luckily my horse turns really well," said White, who trains with Sean Leckie at Blue Ridge Farms and who has owned the 11-year-old Dutch Warmblood for roughly three and a half months. "I'm still getting used to him. He is so fun to ride and has a super floaty jump."  
Elena Haas and Alexa Leong Lead Young Rider Selection Trials 
In the North American Young Rider Championship (NAYRC) Selection Trials, it was Elena Haas who opened the week with a win. The 18-year-old and her own Global Jativia topped the field in the $2,500 1.40m Jumper Classic/NAYRC Trial as the only combination to jump the Catsy Cruz-designed course without fault.  
While Haas had jumped earlier in the class aboard her second entry, Centana, she and Global Jativia had the advantage of being the last to jump.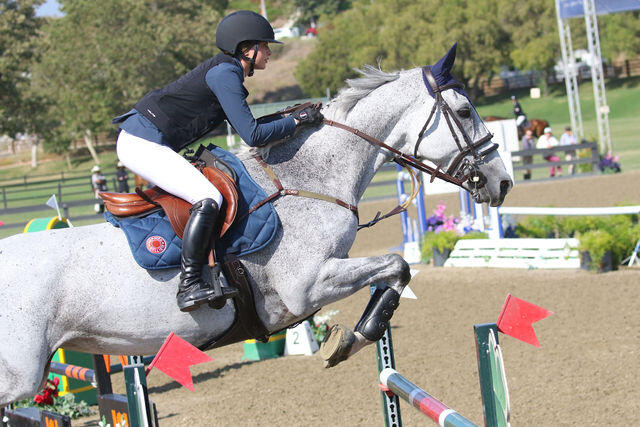 "I was lucky that I got to go last, and I knew that I just had to jump clean," said Haas, who trains primarily with Meredith Herman, as well as Richard Spooner. "The plan sort of changed from going a little bit quicker to just knowing that I had to jump clean, so I took my time a little bit more. The second horse that I went on is also naturally very quick, so with her I never have to think quite as much about making up the time. So, the second time around I was just trying to stay out a little bit more and be a little bit more conservative trying to get that clean round. Both horses were phenomenal, so I had a lot of fun out here this afternoon." 
The second-place honor in both the overall class and the Young Rider rankings went to Sahana Ganesan and Fast Lucca. 
Two days later, it was Alexa Leong and Carlsson 72's turn to top the Young Rider list. The pair finished second in Sunday's $25,000 Rogue 3 Grand Prix/NAYRC Trial as one of three entries from the 15-horse field to qualify for the jump-off, and one of only two to produce a double clear effort.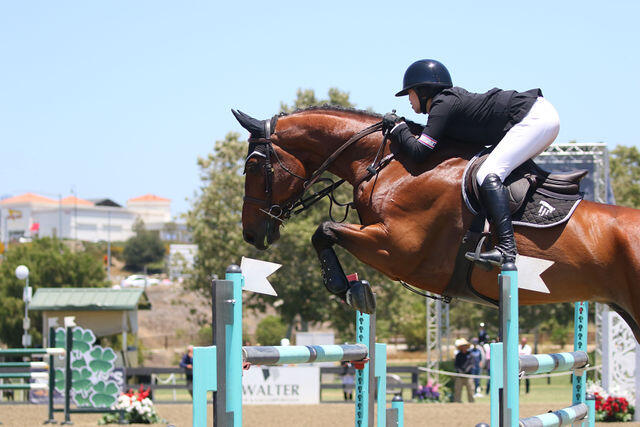 With Trent McGee and Boucherom taking the win in the class with a time of 36.44 seconds, Leong and her own Carlsson claimed the runner-up spot and the Young Rider win with a time of 41.89 seconds. 
"It was a pretty challenging course," said Leong, 17, who trains with Jill Humphrey. "There were a lot of tight lines and questions, but for me, my horse has a big stride, and we knew going in that we had to leave out some strides to really make the course work for my horse. It's hard to go in with that plan, because we don't see a lot of other horse and rider combinations doing the same thing that we do, but it was a fun course." 
In the runner-up Young Rider spot, it was again Haas and Global Jativia. 
Cameron Trimino and Leila Diab Dominate in Pre-Juniors
Leila Diab rode Quind to victory in the $1,000 1.25m Open Jumper/North American Pre-Junior Championship (NAPJC) on Friday, marking the first win of the NAPJC Selection Trials.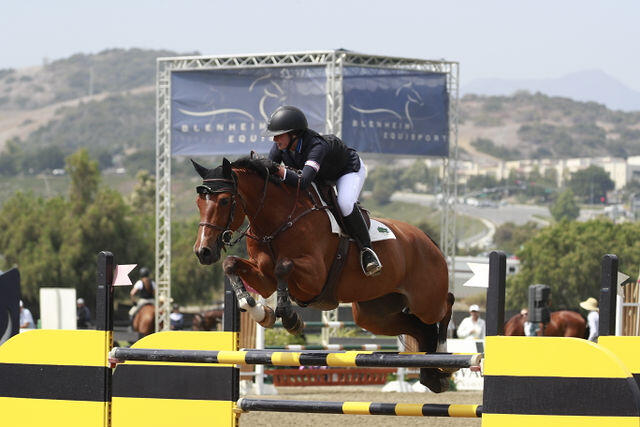 Diab and her 11-year-old Holsteiner gelding crossed the finish in 59.414 seconds to take the win in the class. Finishing in second place, both overall and in the Pre-Junior standings, were Mika Clear and Mr. Pancake BH with a time of 60.485 seconds.
"I thought it was a really good, competitive speed class," said Diab, 15. "I've had my horse for a little bit over a year, and I've shown him up to 1.45m. He's a really good speed horse. He's really fast, and he just really enjoys running around!"  
In the final class of the NAPJC Selection Trials, the $5,000 Dover Saddlery 1.30m Junior/Amateur Classic/NAPJC Trial, it was Cameron Trimino who earned the top Pre-Junior distinction.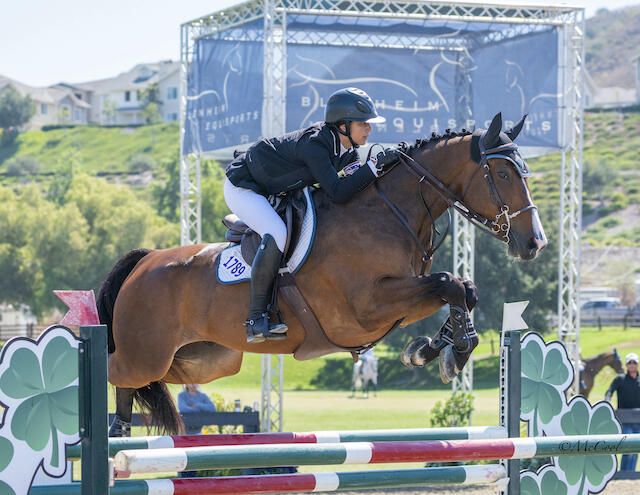 Trimino and her own Adalberto Audi Scappino were one of our entries in the 19-horse class to qualify for the jump-off, but as the only Pre-Junior to jump clear, Trimino elected not to return for the short course, taking fourth place overall and the Pre-Junior win.  
Full results of all NAYC Zone 10 Selection Trials classes are available online at blenheim.showgroundslive.com. Announcements of team selections will be made by US Equestrian at a forthcoming time. For more details on the Zone 10 selection process, click here.