Paige Walkenbach Wins EMO Insurance/USHJA 3'3" Jumping Seat Medal Final – West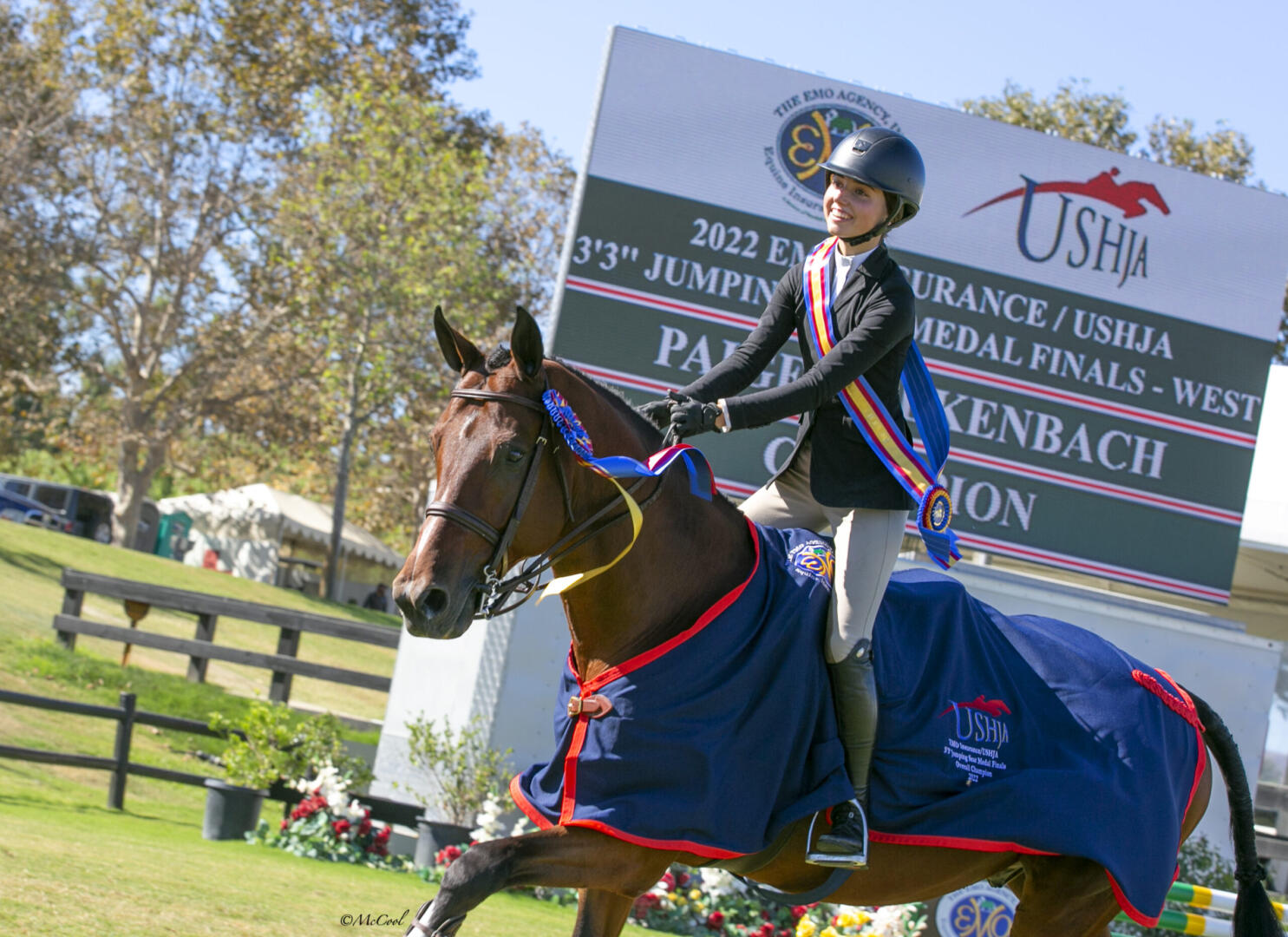 San Juan Capistrano, CA – October 1, 2022 – Heading into the third and final phase of the EMO Insurance/USHJA 3'3" Jumping Seat Medal Final – West on Saturday, September 24, at Blenheim EquiSports in San Juan Capistrano, CA, the class was Paige Walkenbach's to win or lose. The 15-year-old held the lead aboard Let's Go, and as her Jumping Phase score was announced as a 94, she only further secured the overall victory.
Finishing as the reserve champion was Isabella Holway of Cardiff, CA, riding HD Washington, and third place went to Londyn Samlaska of Henderson, NV, aboard Edesa's Revel. 
"It feels pretty surreal," said Walkenbach of her win. "This is [Let's Go]'s second time winning it, so it's really special to be honored like that. He also won the Jumping Seat Final in 2018 with Julia Stone. He's been in the family for two years; I've kind of been sharing him with my sister, but he's mostly been mine since January. He's just so great. Once he gets on a nice, rhythmic canter, all the distances appear. He's just such a good boy. I can always trust him."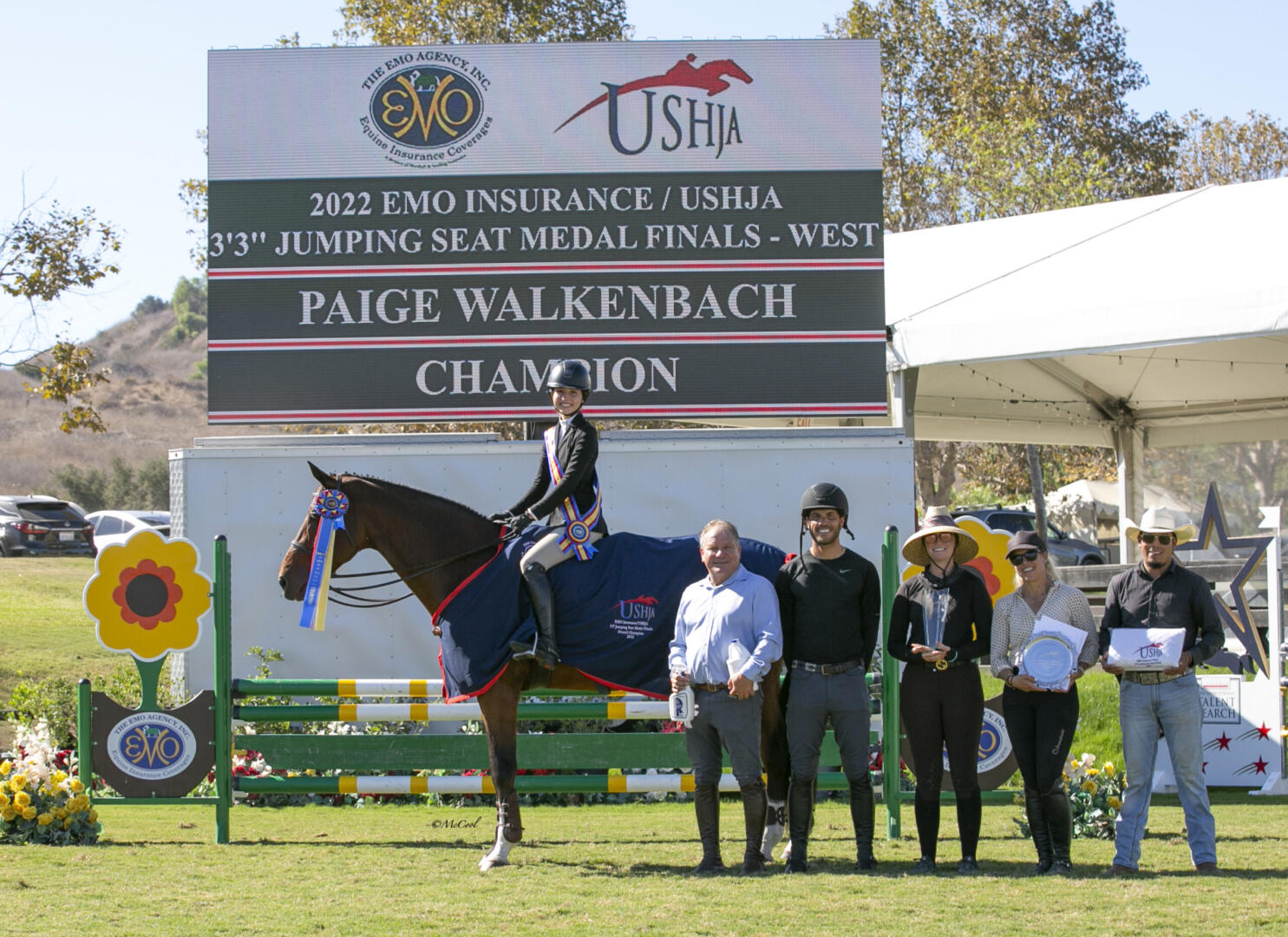 Paige Walkenbach in the winning presentation for the EMO Insurance/USHJA 3'3″ Jumping Seat Medal Finals – West.  Photo by McCool Photography
Walkenbach and the 11-year-old Warmblood gelding, owned by Elvenstar, were one of 33 entries to take on the opening Flat Phase held on Friday, September 23, and a score of 85.5 on the flat put them into fourth place heading into the afternoon's Gymnastics Phase. The win in the Flat Phase with a score of 88 went to Sofia Brocca-Jacobs aboard Romanee Conti.
For the gymnastics phase, course designer Anthony D'Ambrosio set a 16-fence course on the Oaks International Grand Prix Field, incorporating multiple one and two-stride combinations. Walkenbach navigated the track with ease, earning a score of 92 to win the phase and move to the top of the leaderboard. 
On Saturday morning, riders returned to the grass grand prix field in reverse order of their standings to take on the final jumping phase, also designed by D'Ambrosio.
"The jumping phase had a really tight time allowed, which we kind of knew going in because that's what it's about, but it really made me have to be tidy around the corners and not waste any of my backside strides as well as watching for rails because those can come really easily," explained Walkenbach, who hails from Paradise Valley, AZ, and trains with Jim Hagman at Elvenstar Farm.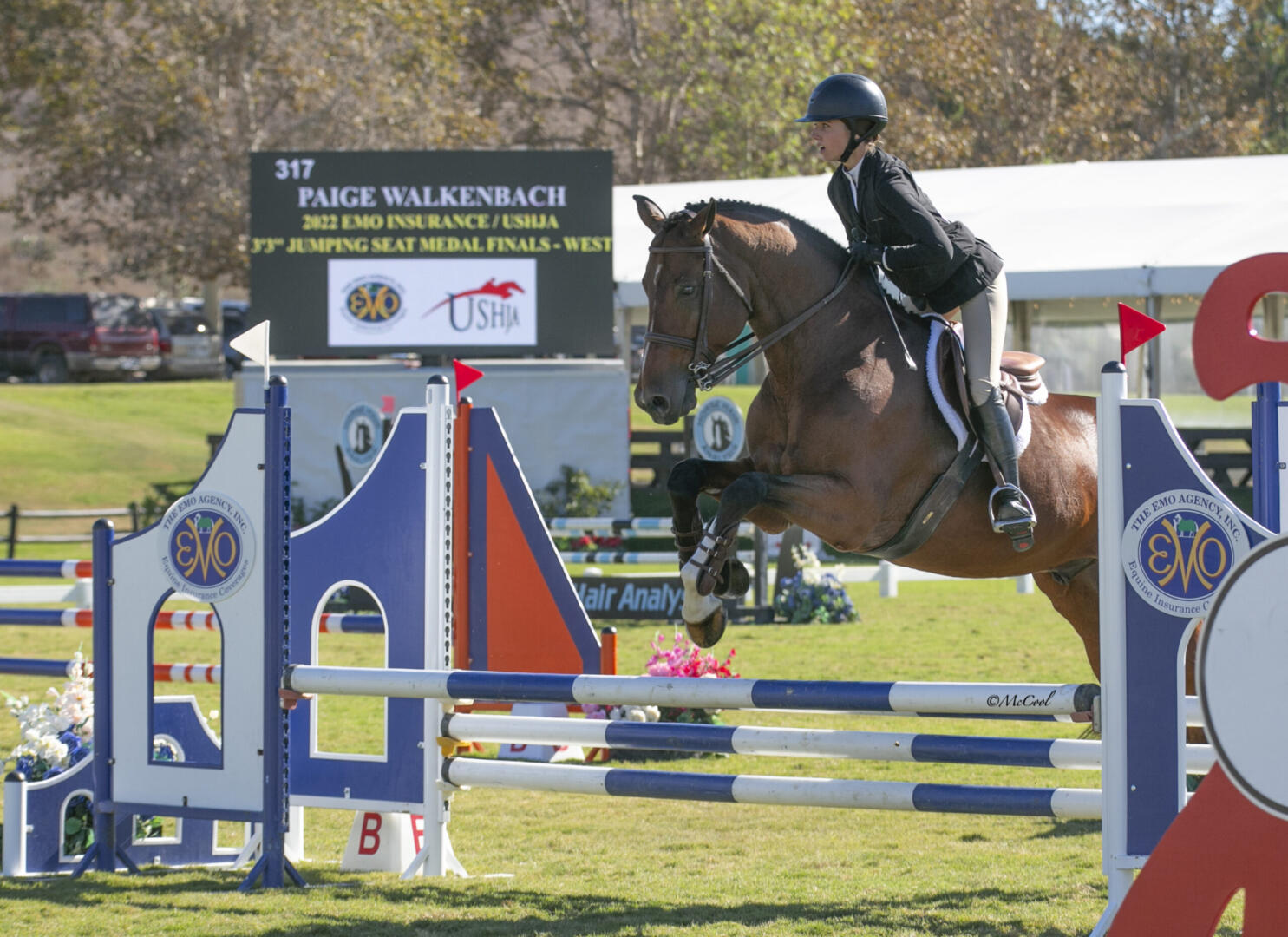 "I was probably a mixture of both [nervous and confident]," continued Walkenbach, who was the final entry to return to jump. "I've been in that position before. I know how it feels. It's very nerve wracking, but I was mostly just excited because the courses were really fun. I was excited to go out there to show my stuff with 'Pedro' because he's such a good boy."
And show their stuff, they did. Walkenbach's score of 94 secured her the win, and Let's Go, or "Pedro," was also recognized as the Best Equitation Horse.
For her victory, Walkenbach received a cooler, sash, trophy, saddle pad, a pair of Parlanti paddock boots, a gift from Straight Arrow and an Essex Classics Show Shirt. Russo received a sash, saddle pad, picture frame and a gift from Straight Arrow. 
"I'm very honored to win this Medal Final and to be the fourth rider out of five years that's been the champion from my barn, Elvenstar," concluded Walkenbach. "It's just really cool to be in that position. Jim's had a bunch of winners! I also really like the Jumping Seat Medal because it's like a mini Talent Search Finals. It includes all the different things that you'll be doing in the future, so I really like how it's formatted."
The EMO Insurance/USHJA 3'3″ Jumping Seat Medal provides Junior exhibitors with the opportunity to develop their equitation skills over a jumper-style course, aiming to help riders gain experience in a format similar to that of the USEF Show Jumping Talent Search. The Medal is open to Junior riders who have not reached their 18th birthday as of December 1 of the current competition year and qualify for the Finals by earning points in Jumping Seat Medal classes during the qualifying period.
To learn more about the EMO Insurance/USHJA 3'3″ Jumping Seat Medal and the new USHJA 3'3″ Adult Jumping Seat Medal, visit ushja.org/JumpSeatMedal.