Visokay, Smith and Post Ride to USHJA National Hunter Derby Southwest Regional Championships at Blenheim EquiSports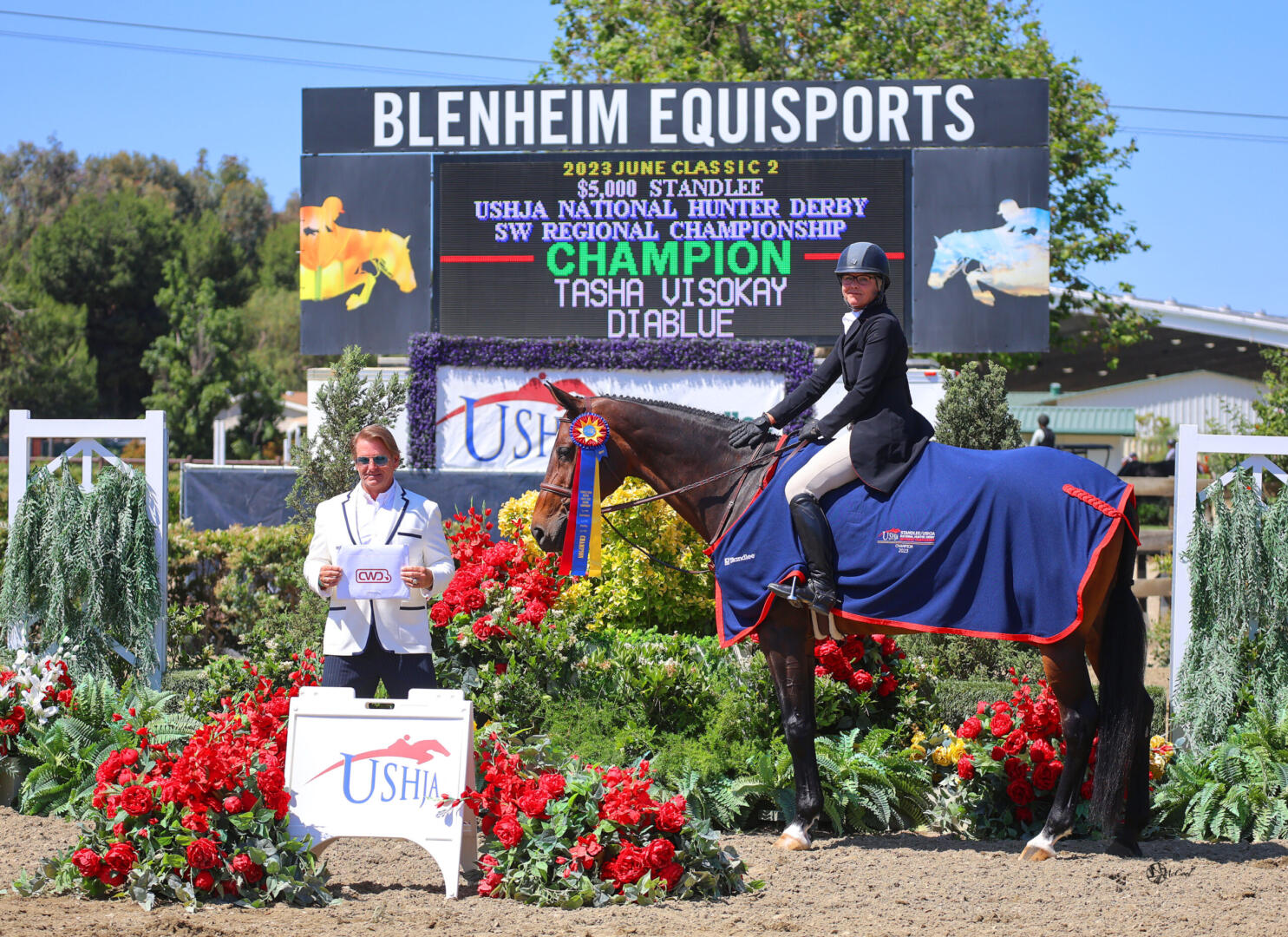 Tasha Visokay and Diablue were presented as the winners of the $5,000 Standlee/USHJA National Hunter Derby Southwest Regional Championship – Open.  Photo by McCool Photography
San Juan Capistrano, CA – Three new Standlee/USHJA National Hunter Derby Southwest Regional Champions were named during the Blenheim June Classic II, held June 21-25, in San Juan Capistrano, CA.
Following the same two-round format as a regular National Hunter Derby class, the Regional Championships are offered in three sections – Open, Amateur and Junior. Earning the Open victory on Friday, June 23, were Tasha Visokay and Diablue. On Saturday, the Junior win went to Emma Post on Won Love, and the Amateur title was awarded to Christina Smith for the second year in a row, this time aboard Sunday Styles.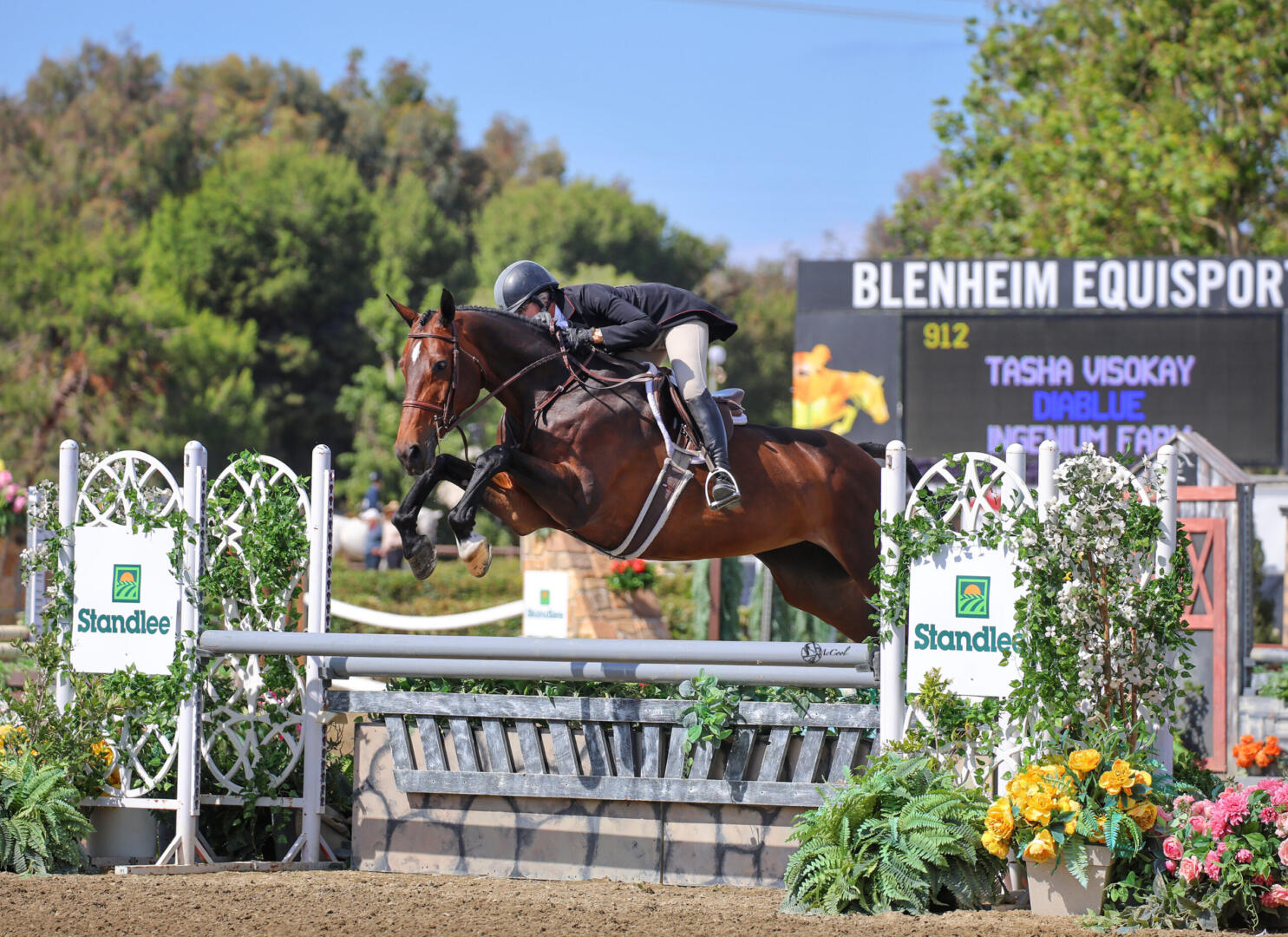 On their way to the win in the $5,000 Standlee/USHJA National Hunter Derby Regional Championship – Open, Visokay and Diablue earned a first-round score of 75, positioning them only in the middle of the field of 18 competitors. A score of 90 in the handy round, however, shot them straight to the top of the leaderboard with an overall score of 165. 
"In the second round, I just knew I had to move up," explained Visokay. "I wanted to be really handy. My intention was to go inside the trot jump, but I found kind of a bold first jump, so I just went around. After that, I knew I'd have to do every other inside turn to make up for it. I planned to land all the leads and do a leave out on the last line. There wasn't really a set number, but I walked one, and [Diablue] just followed me everywhere. It just worked out well for us."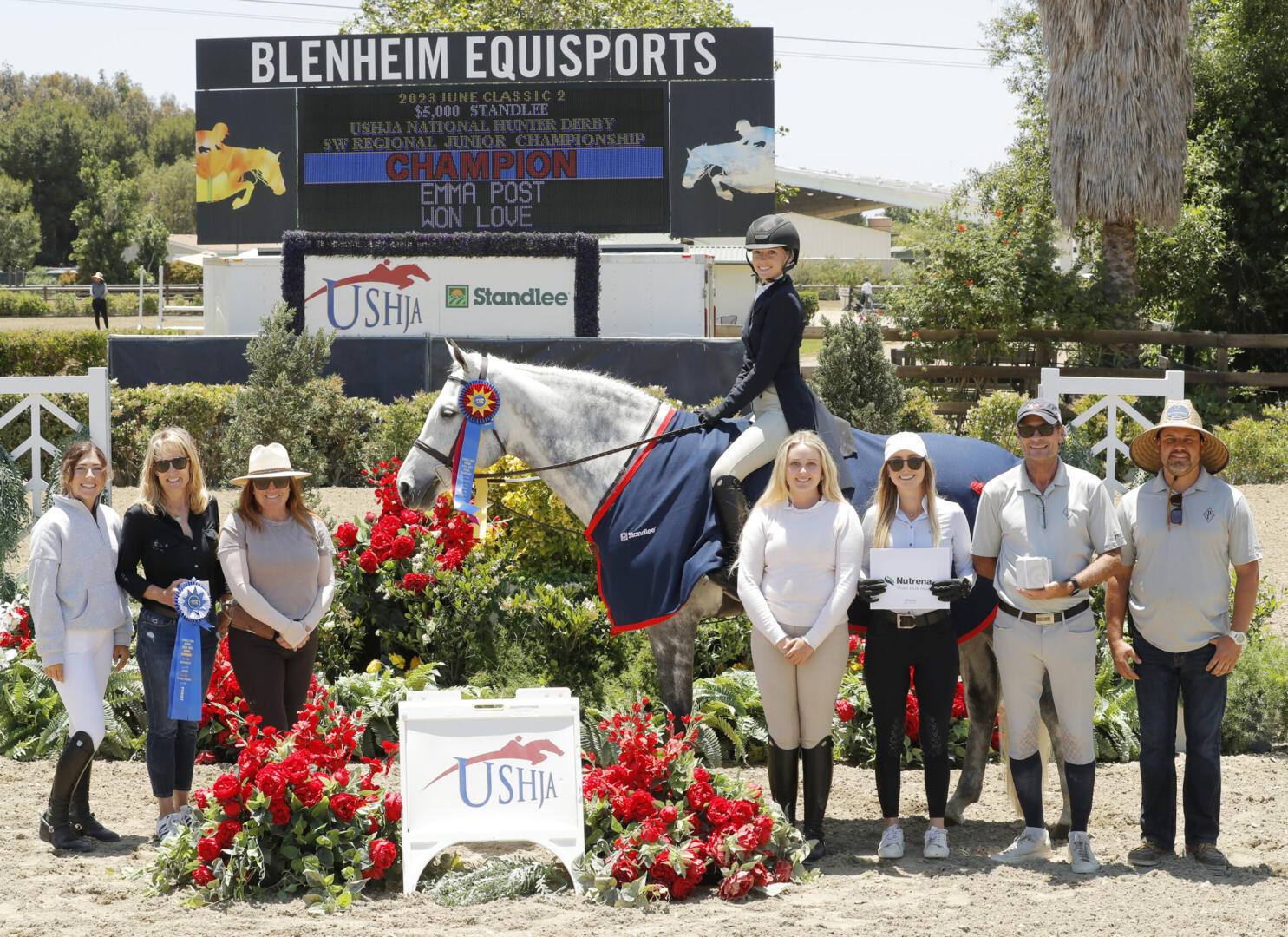 Emma Post rode Won Love to the win in the $5,000 Standlee/USHJA National Hunter Derby Southwest Regional Championship – Junior. Photo by McCool Photography
Diablue, a 2012 Oldenburg mare, owned in partnership by Visokay's Ingenium Farm and David Artos' Sport Horse Agency, is a personal favorite in Visokay's barn. 
"We call her Betty," said Visokay. "She's 11 now, and I've had her for a few years. She came back off a lease and is one of my favorites; she's perfect – no spook, good to ride and a great jump."
With Artos' support, Visokay hopes to enjoy more derby-ring success with the mare in the coming months.
"I'm the only one that shows her right now, so I'm just going to have fun and enjoy her and see if we can keep doing well," concluded Visokay. "It's been a great opportunity. It was a nice course, super fun to ride, and I think the horse show did a great job."
With Visokay and Diablue taking the win in the $5,000 Standlee/USHJA National Hunter Derby Regional Championship – Open, second place with a score of 160 went to Julia Rossow aboard Casalluno, owned by Karle Dickerson. Visokay also finished in third with a score of 159 riding Rockefeller DW for owner Andrea Thurm.  
Click here for full results of the $5,000 Standlee/USHJA National Hunter Derby Regional Championship – Open.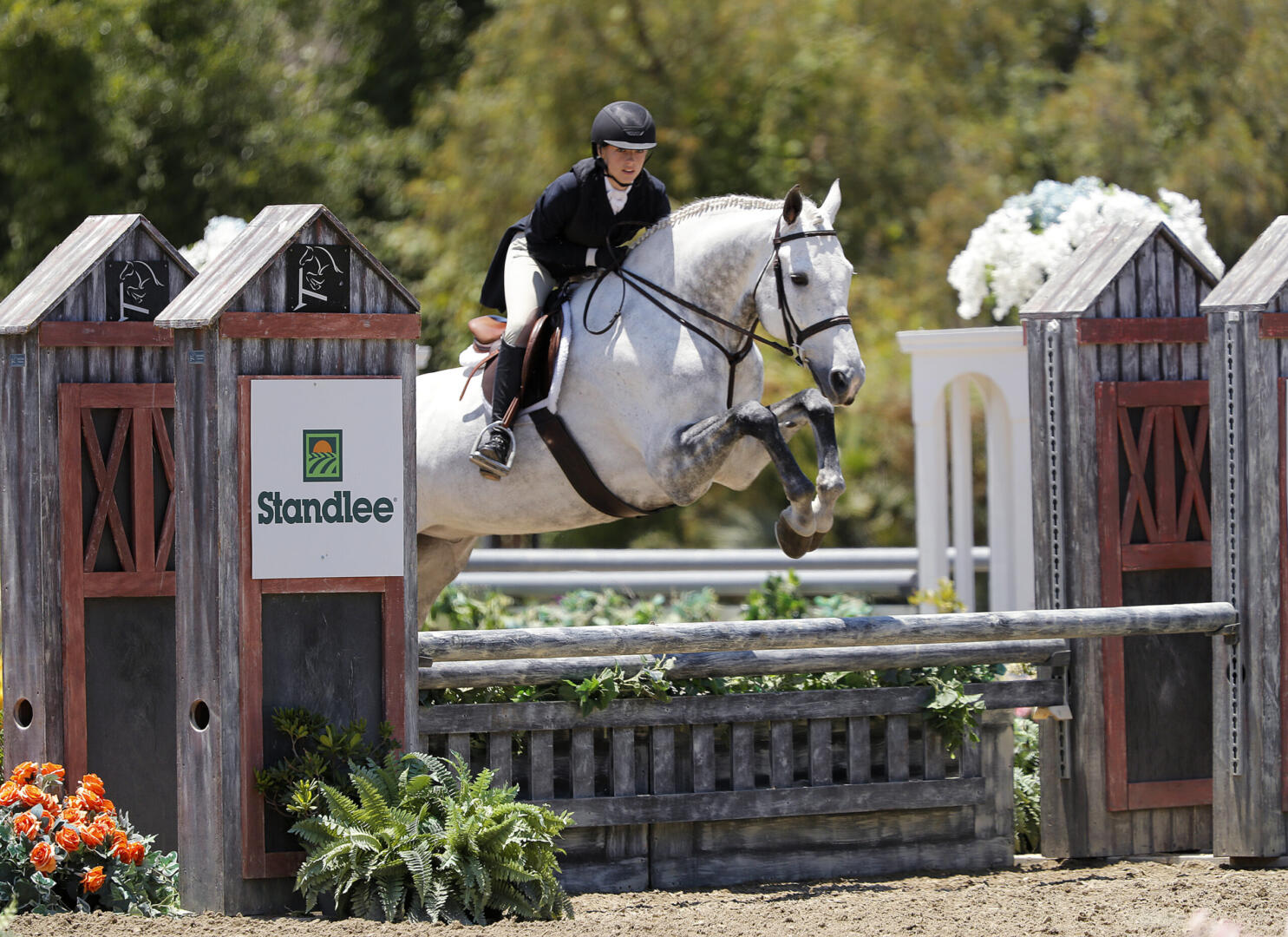 In the $5,000 Standlee/USHJA National Hunter Derby Regional Championship – Junior, a score of 179 clinched the win for Post and her own Won Love. The duo led the class from beginning to end, with the 14-year-old Hanoverian gelding earning a score of 88 in the first round and a 91 in the handy round for an overall winning score of 179. 
"I thought it was just outstanding," said Christa Endicott, who Post began training with roughly three years ago. "The horse has a lovely way of going. Emma is a beautiful rider; she's accurate, and the horse jumps in impeccable style almost every single jump, so it was lovely. In the handy, she had the benefit of being able to watch everyone else and sort of see where the chips had fallen, so I think she rode a very smart handy. It was not too risky, but she took all the high options. It was just a beautiful round – again, flawless."
Post has been partnered with Won Love for the past two and a half years, and together under Endicott's tutelage, the pair has climbed the ranks from the 2'6" Hunters to the 3'3" Junior Hunters and USHJA National Hunter Derby competition.
"He's just an outstanding horse," said Endicott. "He's got an amazing character, and their partnership has just grown and really blossomed into a really consistent partnership. She did everything with him right from the beginning. It's not a horse that we showed and produced for her in the open divisions. She's pretty much done it all and taught him the ropes in the hunter ring; he had done jumpers in Europe before we bought him."
From the field of 23 entries, second place went to Paloma Primavera who rode her own Corochino Z to a score of 171, and third place with a score of 169.5 went to Avery Walrath and Dicaprio. To view all scores from the $5,000 Standlee/USHJA National Hunter Derby Regional Championship – Junior, click here.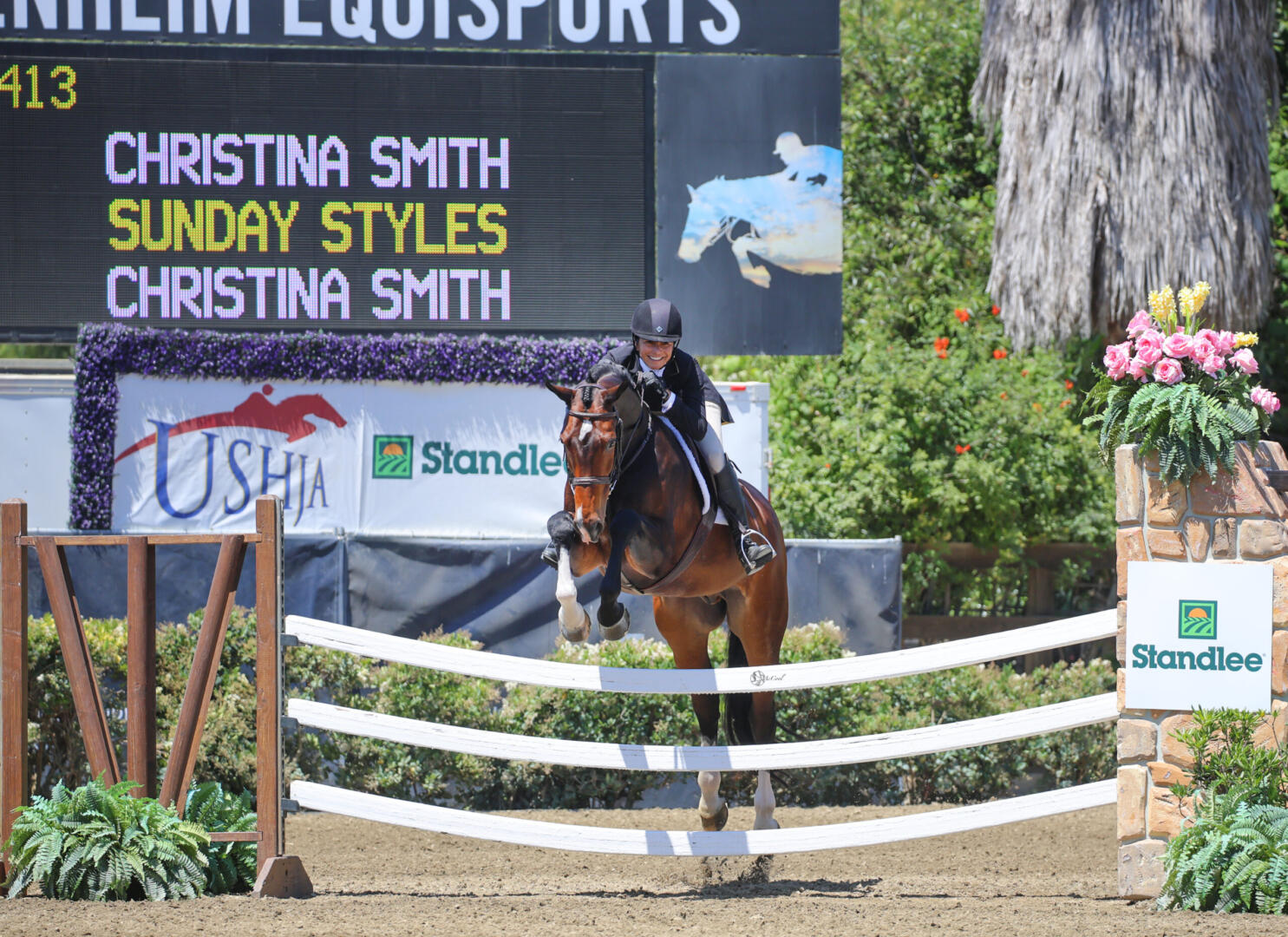 In the $5,000 Standlee/USHJA National Hunter Derby Regional Championship – Amateur, Smith returned to successfully defend her championship title. In 2022, she topped the class aboard Chancellor, and this time, she did it again aboard her newer mount, Sunday Styles.
"That was really fun to repeat the win again!" said Smith, who sat in fourth place at the end of the first round. "I actually think I was coming back in fourth last year as well, so both years I was coming back into the handy sitting fourth, and I didn't buckle under the stress. It worked out well both years! I had my other horse in there, and he ended up fifth overall this year, but it was his new younger brother that pulled it off this time. I put a little bit more pressure on myself because I did win it last year too, but it was just a really fun class. It feels more special because it's a championship and all of that; I really enjoy it."
Smith and Sunday Styles added a handy-round score of 92 to their first-round score of 86 to earn the pair's first derby win together – and what Smith hopes is the first of many to come for the talented 10-year-old Westphalian gelding.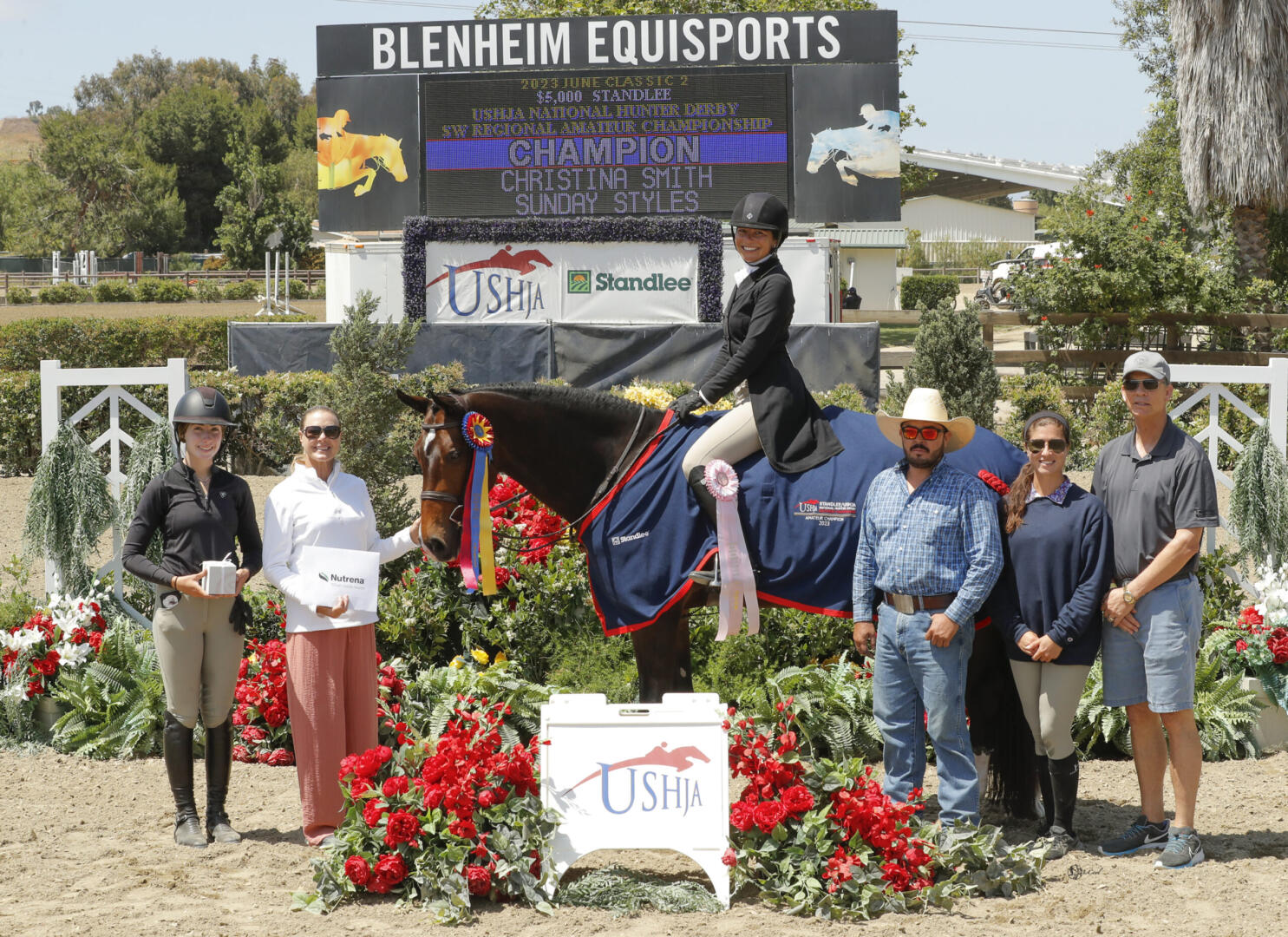 Christina Smith topped the $5,000 Standlee/USHJA National Hunter Derby Championship – Amateur for the second year in a row. Photo by McCool Photography
"Our first show together was in September [2022] at Blenheim; I feel like I'm still getting to know him," explained Smith of the gelding acquired through Jett Martin Sport Horse Sales. "He's really adapted well to like hunter life. He was a jumper before, so he's just transitioning. He seems to love the derbies; after [this week], I think he really proved it. I think it's more interesting of a course for him. I'm so happy, he jumped super both rounds, and he was really quite fun. You feel like whatever you point him at, it's going to be easy for him, which is a really nice feeling to have, especially as an amateur. I know we're making it to the other side every time." 
Finishing in second place behind Sunday Styles was Quentino, ridden by Abigail Steller and owned by Summerhouse Farm, LLC. Rounding out the top three were Teddi Mellencamp Arroyave and her own Totally. For full results, visit blenheim.showgroundslive.com.
For their victories, all three derby champions received coolers; Visokay was presented with a gift certificate from CWD, and Post and Smith were awarded Nutrena gift certificates.