Sabine Close and Emma Dawley Earn CPHA Medal Final Wins at Blenheim Racing Festival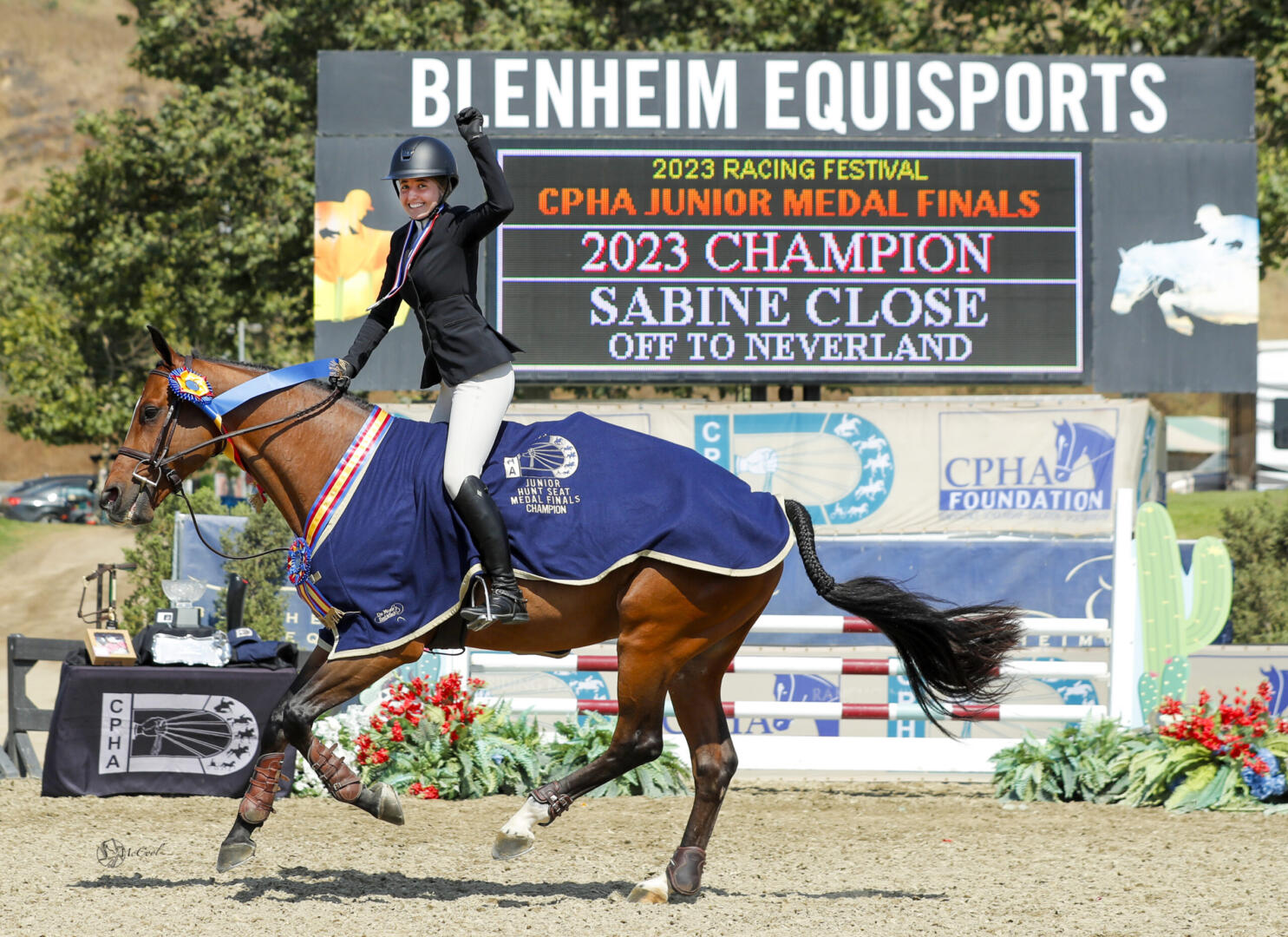 San Juan Capistrano, CA – The California Professional Horsemen's Association crowned two new Medal Final champions, Sabine Close and Emma Dawley, on Saturday, July 29, at the Blenheim Racing Festival in San Juan Capistrano, CA.
Following two days and three rounds of competition, Close earned the win in the CPHA Junior Medal Final aboard Off To Neverland, and Dawley rode Shameless to the win in the CPHA Adult Medal Final.
The CPHA Junior Medal Final saw 46 young riders take on the first round on Friday, July 28, and, with scores consistently in the 90s from judges Scott Hofstetter, Scott Williamson and Gary Young, Close took the lead and never looked back. 
Second place went to the prior week's CPHA Foundation 21 and Under Medal Final winner, Paige Walkenbach on Let's Go, and third place was awarded to Londyn Samlaska riding Edesa's Revel.
"I liked both the [first and second round courses]," said Close, of the tracks set by course designer Scott Starnes. "I thought they asked really strong questions. In the first round, I was more focused on having a smooth round and trying to be rhythmic. Then in the second round, I was hoping to be a little bit bolder with the inside turns. I wanted to utilize the track more than anything to try to find the distances. I think a couple of the bending lines were more so about the track than anything else. My horse has such a good way of going with his rhythm, I was hoping that that would be the best way to shine in that one."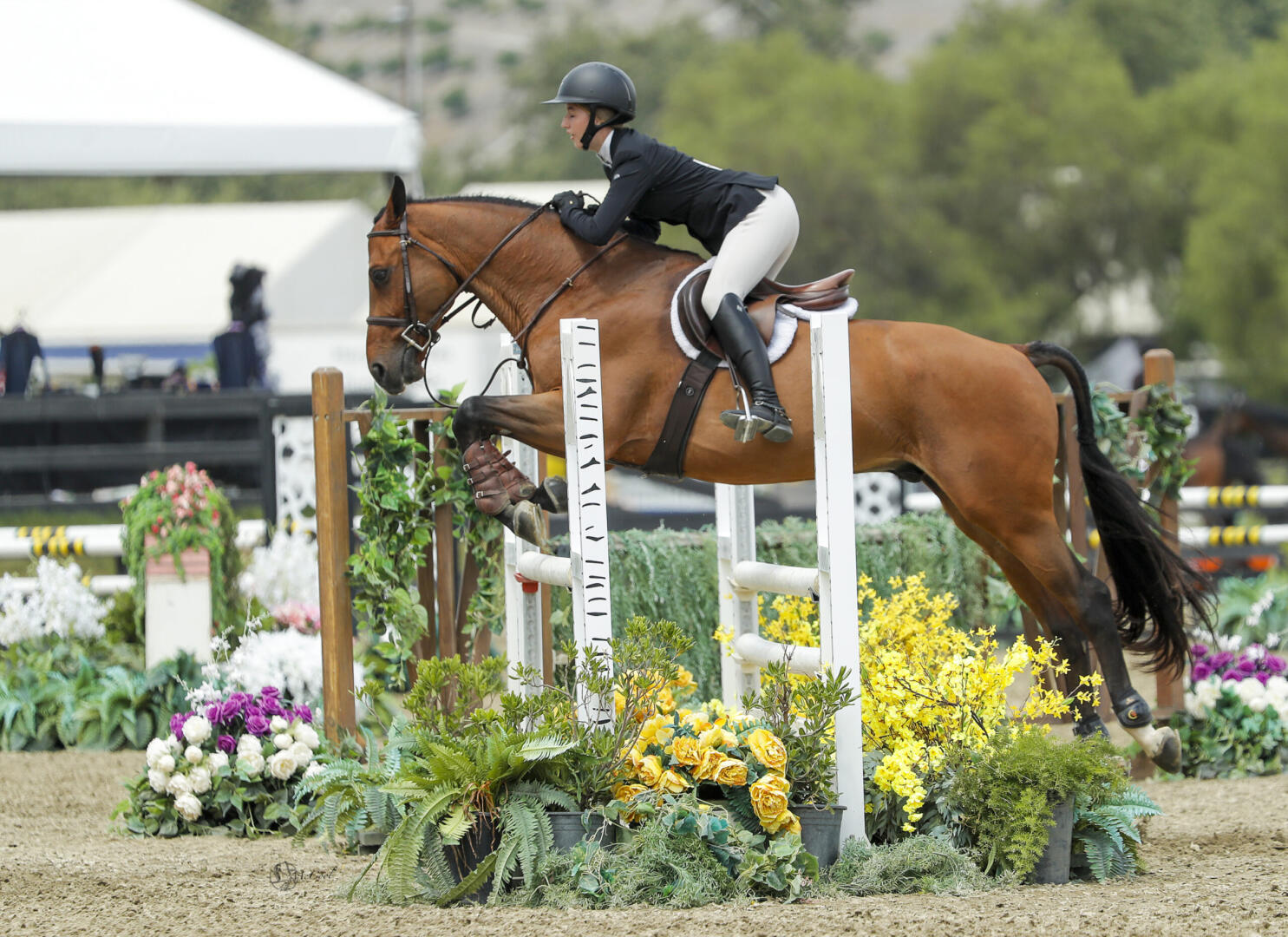 Close's plan worked and, following the second round held on Saturday morning, she held the lead by an 18.5-point margin. The field was then narrowed to the top 10, with riders returning in reverse order of their standings for the third and final test.
"I was a good mix of excited and nervous coming back into it," said Close, who has spent the past year training with Olivia Dawson-Grove. "I knew that I had a decent lead, so I could be just smooth and consistent. I didn't need to take any crazy inside options or anything like that; I wanted focus on smoothness and consistency most of all."
From the second she trotted back through the ingate of the Grand Looke Arena, Close delivered on her plan, earning a third-round score of 270.5 – including scores of 87.5, 90 and 93 from the three judges.
"The third round was more so about smoothness in the track and the pace and starting with enough pace and ending with the same," said Close. "Having matching fences was the most difficult part of it. My horse, Ramsey, was really, really good in that third round. He was super smooth and light and loose, and that helped a lot with my nerves as well going in."
Close has been partnered with Off To Neverland, or "Ramsey," since October 2022, and, with the help of the team at Dawson Grove Farm, has been working to develop the 7-year-old Swedish Warmblood into an equitation horse.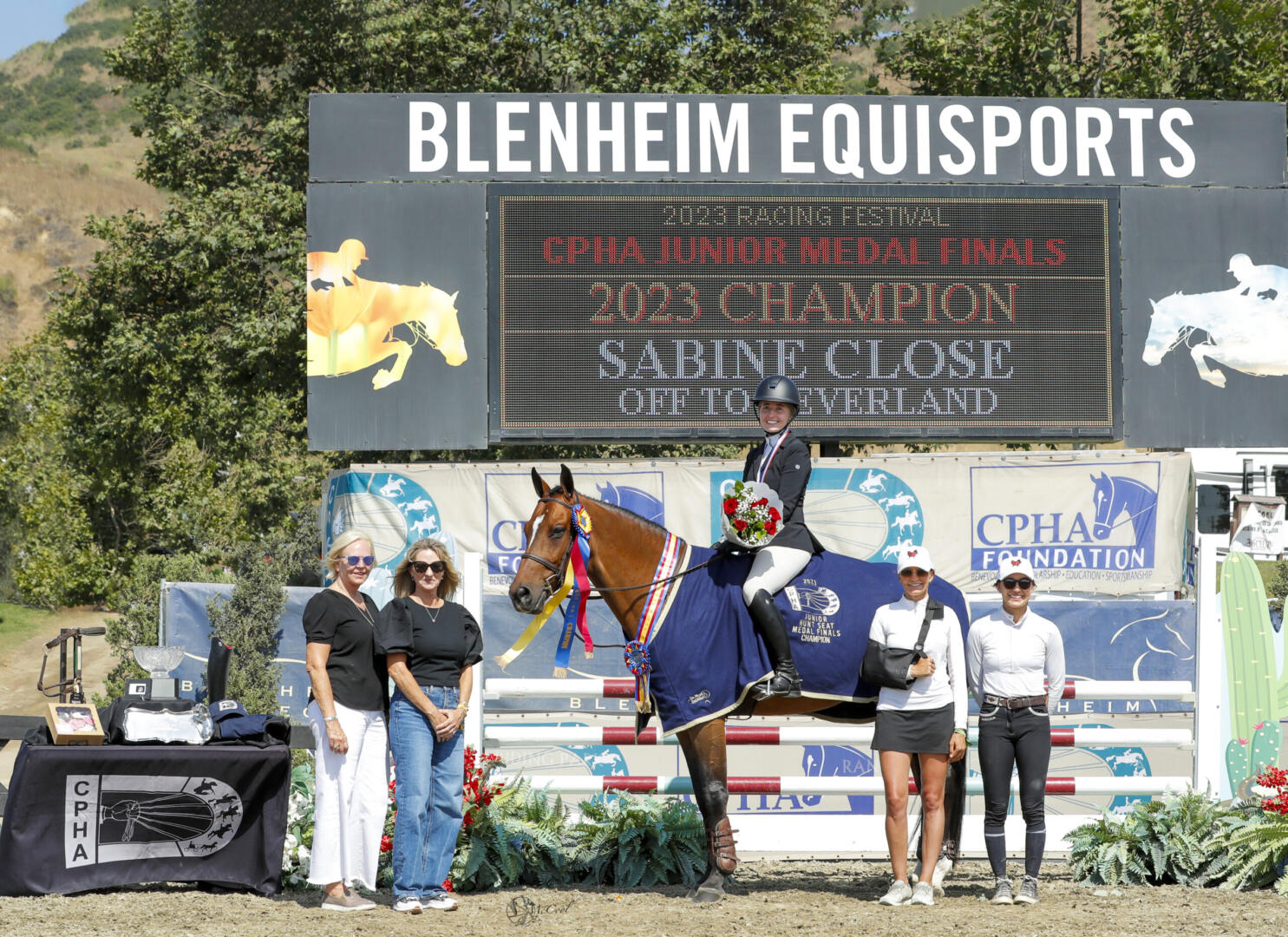 Sabine Close, who trains with Olivia Dawson-Grove, was presented as the winner of the CPHA Junior Medal Final. Photo by McCool Photography
"We focused a lot on flatwork at the beginning," said Close, who started competing Ramsey in the 'big eq' in December. "He's just so wonderful. He has the best barn personality. He's so sweet and loving. He's really smart. He always steps up to the plate."
Close concluded, "I want to say just a huge thank you to all my trainers and the barn; they've taken me so far, and then also a big thanks to my teammates and family who are always so supportive and also CPHA and Blenheim because they put on such a beautiful show. It was really lovely there these past two weeks." 
Emma Dawley Dominates in CPHA Adult Medal Final 
In the CPHA Adult Medal Final, the first to go was the best to go, as the initial rider in the ring, Emma Dawley, ultimately rode away with the win.
Second place was awarded to Taylor Loew and Cassini Jr., and Maryam Ghassemi finished in third with Al Capone.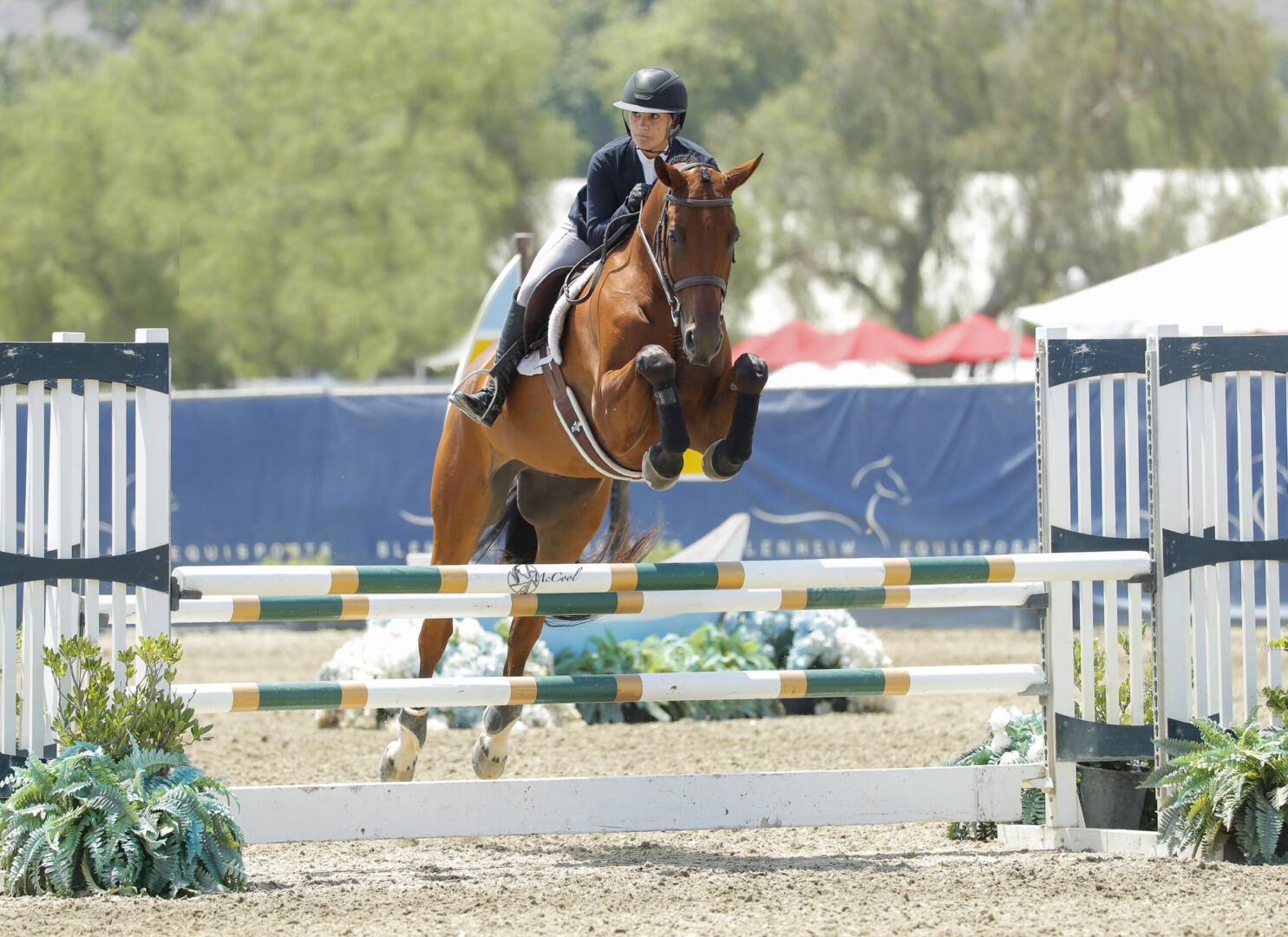 From a field of 15 entries, drew the first position in Friday's order of go, and a total first-round score of 242 put her into a solid third-place position. Holding the lead with a score of 251 was Ghassemi, and Julia Greenspan and Calvin Klein sat in second with a score of 242. 
All 15 riders next returned on Saturday morning for a second round, before the field was narrowed to the top 11 (including a tie) for the third and final phase. A score of 252 in the second round moved Dawley into the lead with an overall score of 494, positioning her as the final rider to return for the third round. The high score in the second round – an overall 252 – went to Loew, helping her to ultimately take home the reserve championship honor. 
"I liked how the courses got more challenging between round one and two," explained Dawley, who trains with Jenifer Paris of Cheval Farm. "The questions asked from the course designer were the right level of challenge. In round two, I really liked how it got more technical, and you kind of had to just pick up the canter and get on the rhythm and stay on it to make all the bending lines and everything work. Both were super fun rounds to ride."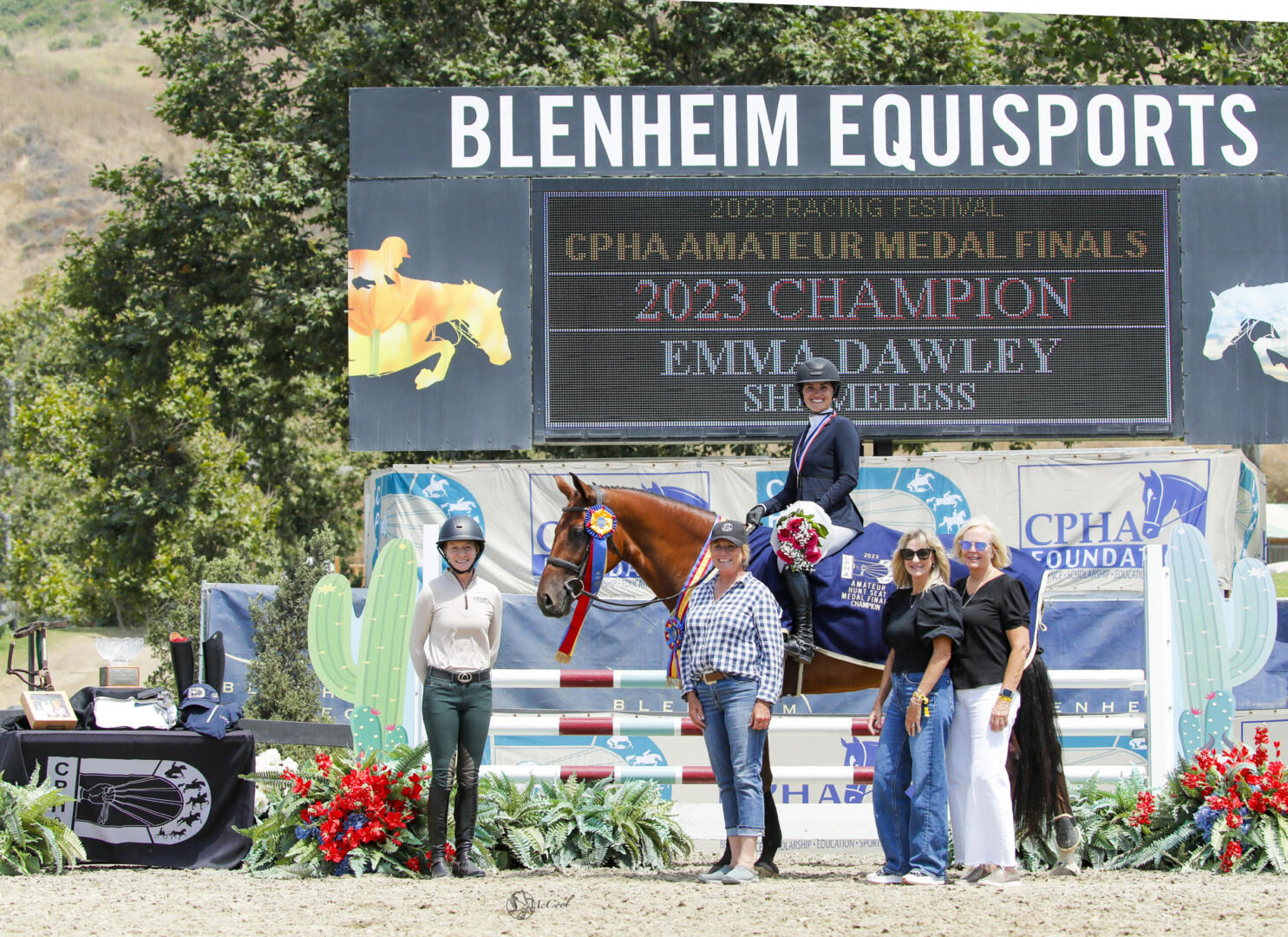 Emma Dawley was joined in the winner's circle by trainer Jenifer Paris. Photo by McCool Photography
Dawley continued, "It was always the goal to make the third round, so I was pleased that I did. I definitely had a little pressure on me having to go last coming back in first place, but I had the utmost confidence in the lovely horse that I got to ride in the final, so I knew he was ready. I felt confident that we could execute. You hope the nerves don't get the best of you, and luckily, they did not!" 
With Shameless, a 10-year-old American Warmblood gelding owned by Paris, Dawley earned a third-round score of 253.5 to secure her win.
"[Jenifer's had him for I think about 8 years; she's totally brought him along and developed him with lots of ups and downs that come with training a horse," said Dawley of Shameless. "He's made quite a nice high performance hunter and international derby horse for her, but he's very much a newcomer to the medal final ring. I had no doubt with his solid training, and just the heart that the horse has, that he could do it."
When Dawley is not riding, she can be found in San Francisco working in investment management or trying to fit in visits to Paris' Sacramento, CA-based farm as often as possible. 
"I work 50-plus hour weeks usually, which pretty much means I don't get to ride a ton during the week, but if I can make it up from San Francisco to Sacramento to Jenifer's barn to ride once or twice a month, it's well worth the drive. They make it worth it," said Dawley, who has been training with Paris for roughly the past four years. "I was connected with her for some catch-riding opportunities, and since then, she's been a fabulous mentor and trainer to me. She's always provided me with really quality, great opportunities to ride and show. It's a lot of fun to train with her and her mom. I think what really stands out to me about them is their hard work and how much they value and promote good horsemanship."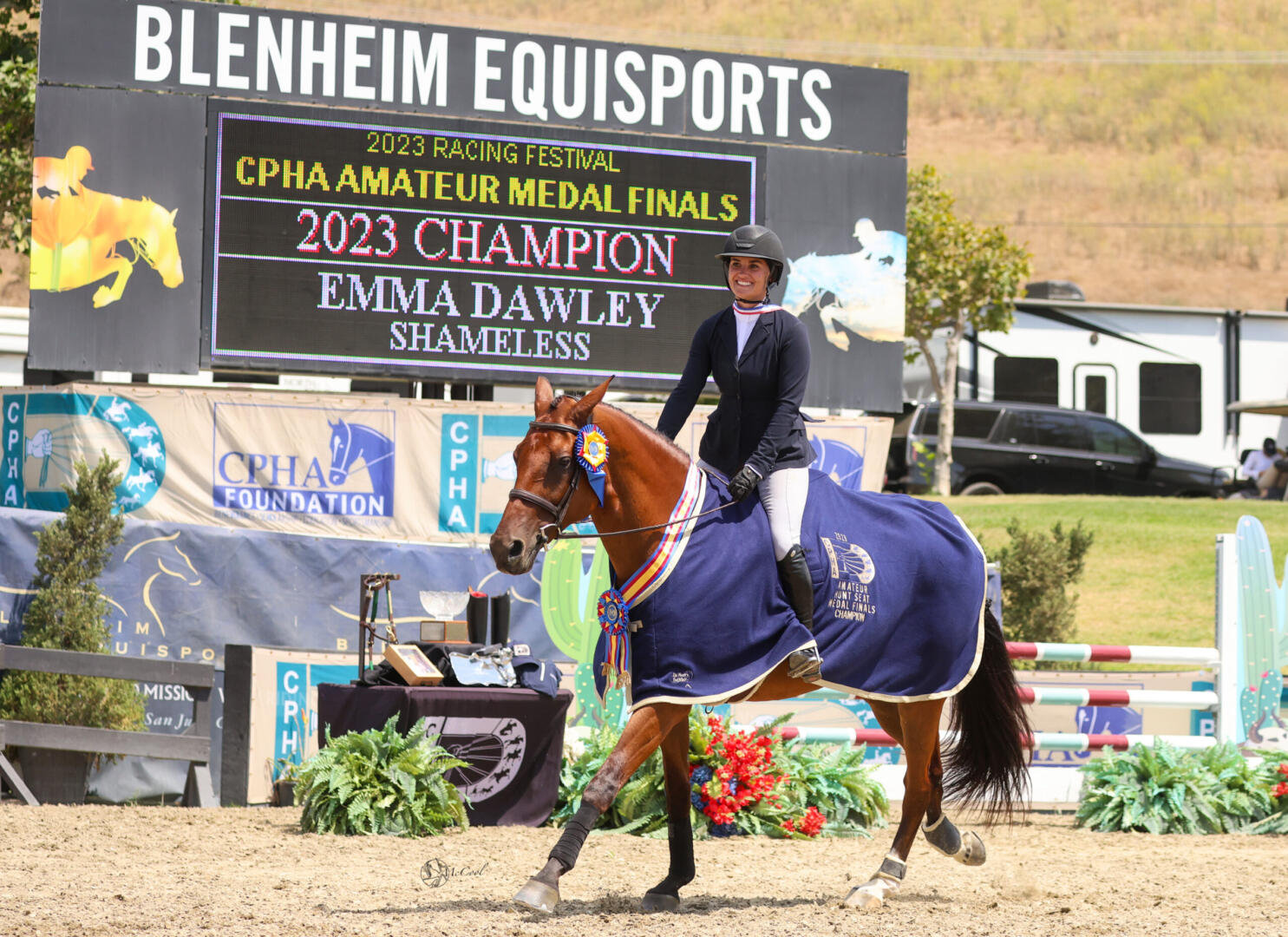 For their wins, both Dawley and Close were presented with coolers, sponsored by DaMoors Tack & Feed; CWD gift certificates; halters from Valencia Sport Saddlery; riding shirts, sponsored by G2 Insurance; DeNiro Salento Show Boots from Outdoor Outfitters; custom-made belt buckles, sponsored by Archie Cox; and horse cookies from Harlow's Horse Cookies. All participating riders also received CPHA ball caps and boot shine kits, sponsored by Kim Otteson, James Klein and Great American Insurance. 
For full results of the CPHA Junior and Amateur Medal Finals, visit blenheim.showgroundslive.com.