Halie Robinson and Malaiha Make Their Debut a Winning One in $10,000 Blenheim Young Hunter Championship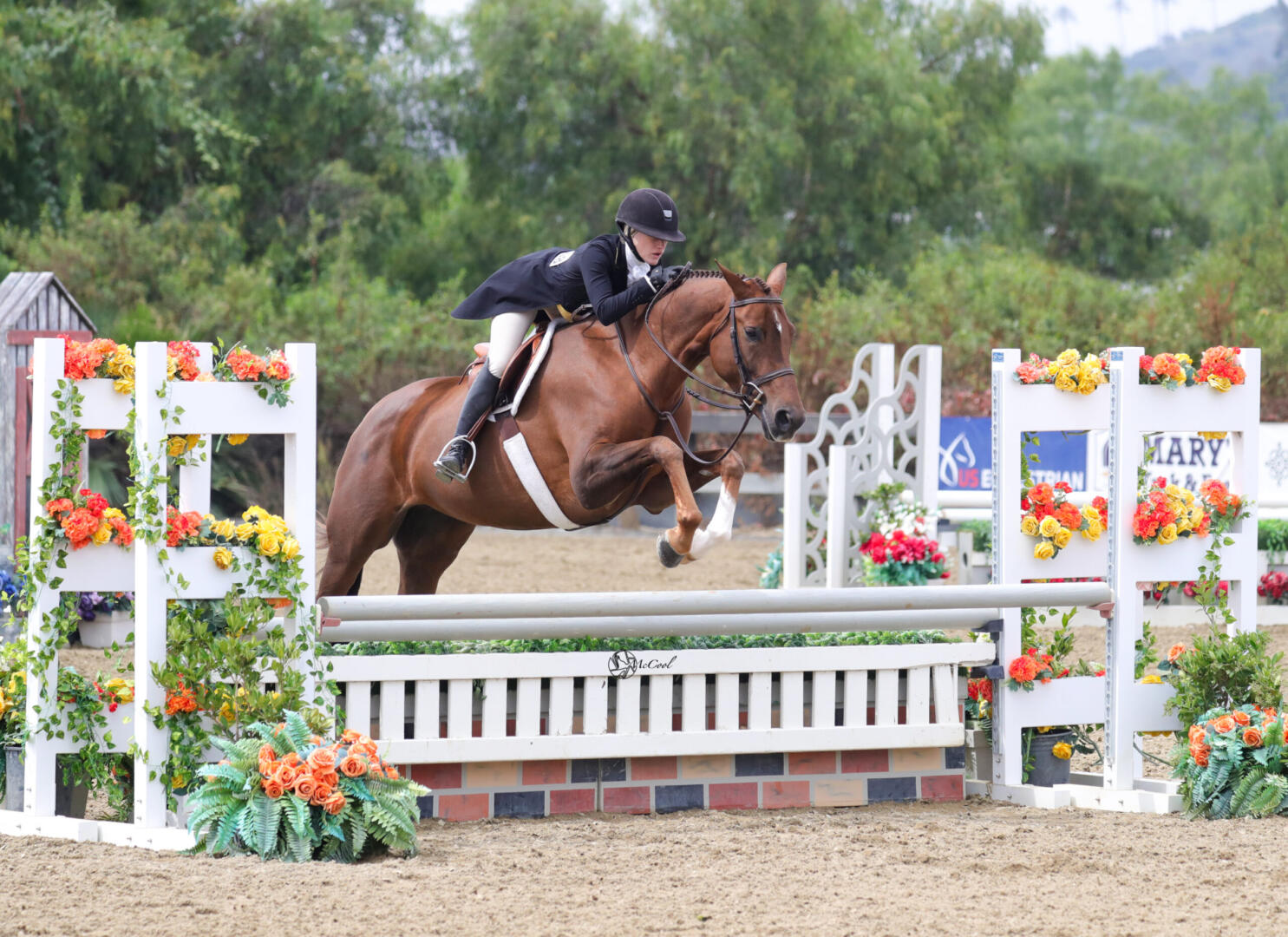 Halie Robinson rode Malaiha to the win in the $10,000 Blenheim Young Hunter Championship with scores of 92 and 90.  Photo by McCool Photography
San Juan Capistrano, CA – September 21, 2023 – Halie Robinson only sat on Malaiha for the first time on Wednesday, but on Thursday morning, Robinson rode the chestnut mare straight to the top of the leaderboard to win the $10,000 Blenheim Young Hunter Championship.
The championship class, held in honor of Marcia "Mousie" Williams, marked the 2023 finale of the popular Blenheim EquiSports Young Hunter Series at the Rancho Mission Viejo Riding Park in San Juan Capistrano, CA. Throughout the year, the series offered free entries for all Young Hunter classes, including $1,000 Mary's Tack & Feed Young Hunter Classics held during every Blenheim EquiSports rated competition.
Robinson and the 6-year-old Dutch Warmblood mare were one of 32 entries to take on the championship on September 21 during the International Jumping Festival, and they rose to the top straight out of the gate.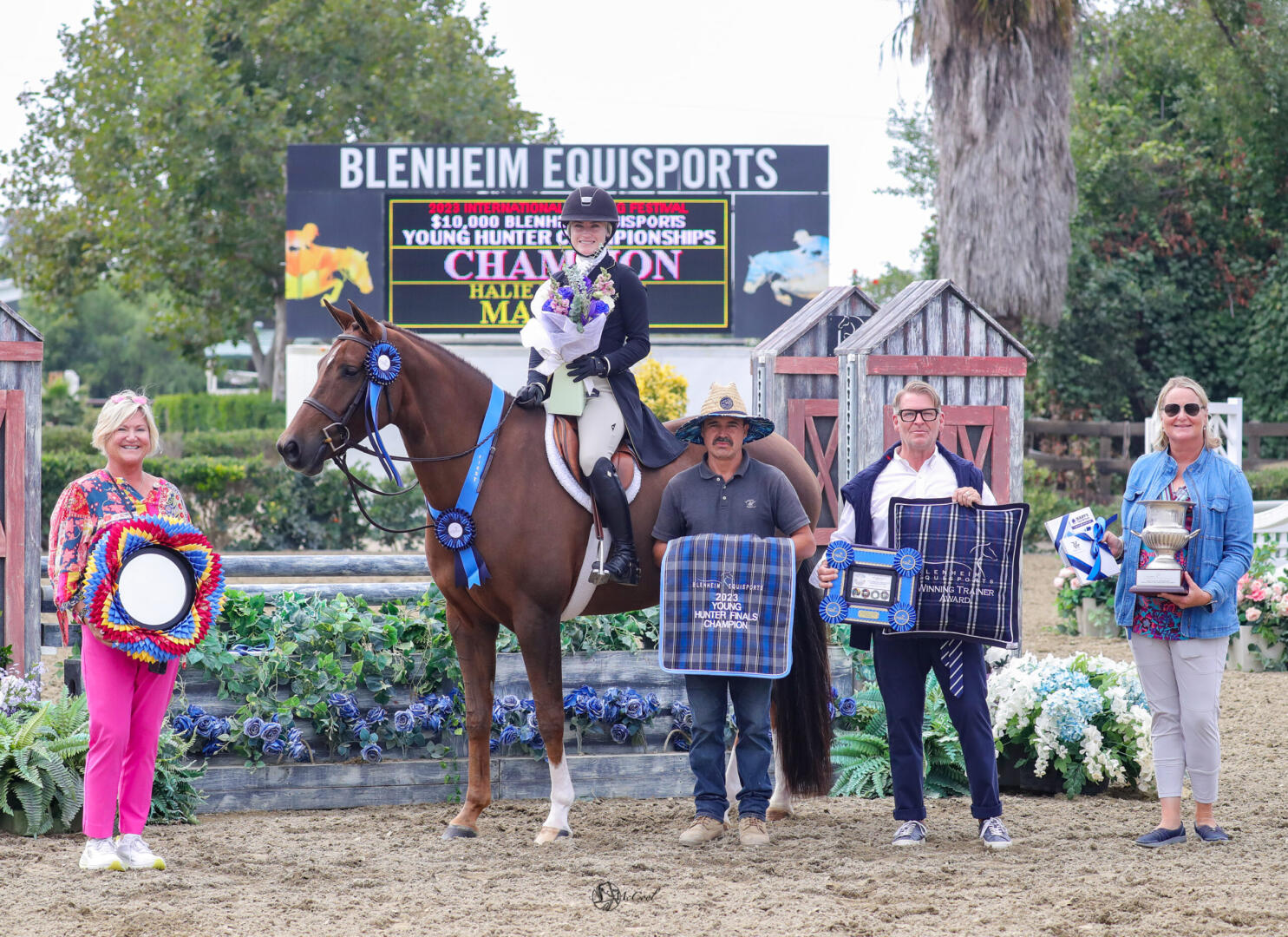 Halie Robinson and Malaiha were presented as the winners of the $10,000 Blenheim Young Hunter Championship.  Photo by McCool Photography
Their first-round effort earned them an impressive score of 92, and when the top 12 returned for a second round, their score of 90 was more than enough to secure them the win with a two-round average of 91. Second place with an average score of 87.5 went to Jamie Sailor and Ornella B, owned by HLF Equestrian LLC. Taking third was Sligo, owned and ridden to an average score of 87 by Natalie Rae Sibert.
"I was super happy with everything; [Malaiha] was so fun!" said Robinson, of the mare owned by Gigi Cunliffe Noerr that Robinson first spotted in a Facebook sales video just last week. 
"It's a really funny story," explained Robinson. "The video was blurry, and I couldn't really see much – but I thought I liked the horse. The video was from a trainer up north; I texted her right away asking if I could try it."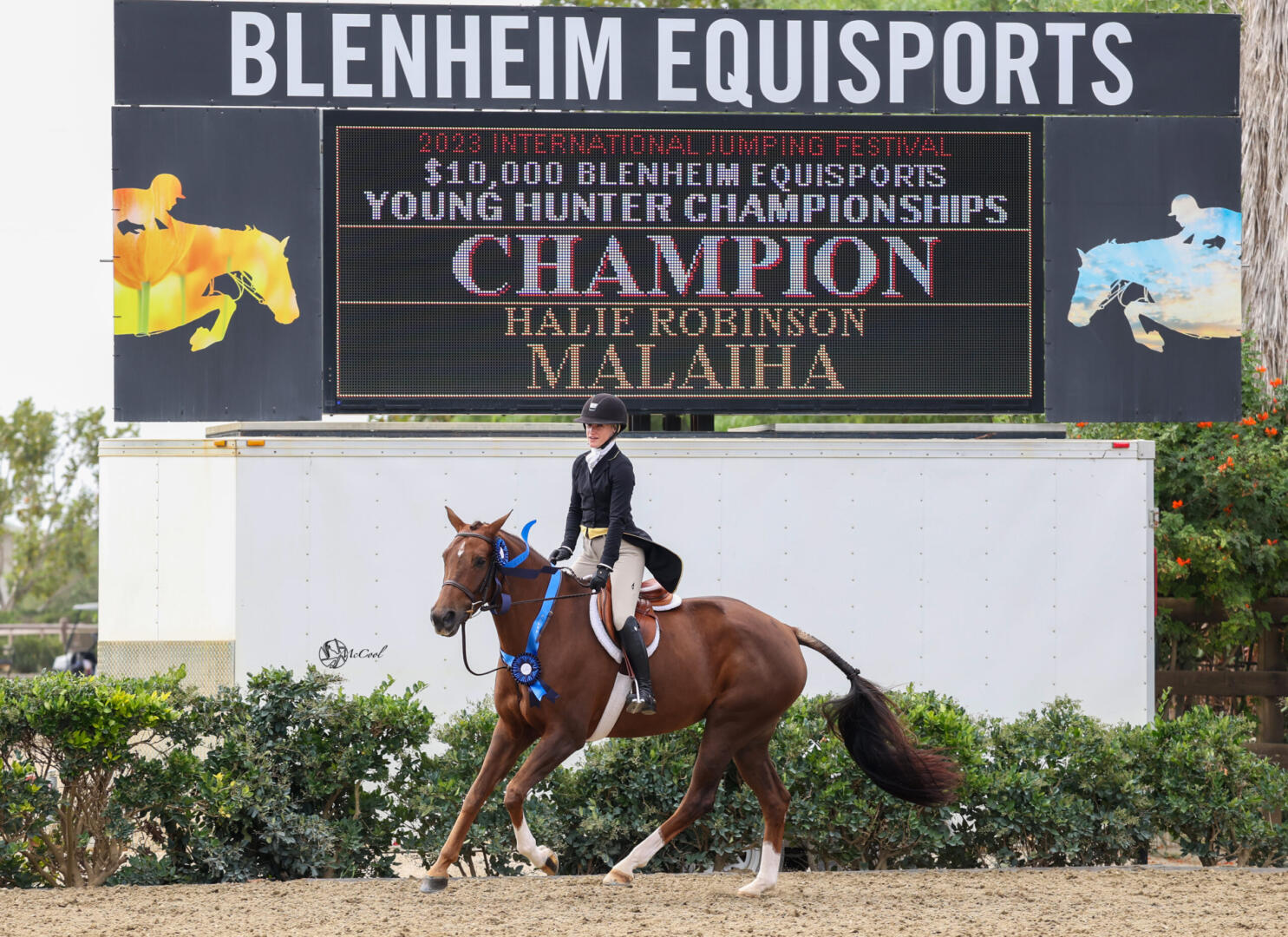 Fast forward a week and Malaiha arrived at Blenheim EquiSports late on Tuesday, just in time for Robinson to take her in one class on Wednesday before contesting the Young Hunter Championship first thing Thursday morning.
"She's so easy!" said Robinson. "She's only six; the trainer told me that if someone told her [Malaiha] was 10, she would probably believe her, and I completely agree. She is just really well balanced, really well broke on the flat, and she's a really quick learner, which I've seen a lot of in the last three rounds. She's just a really lovely horse. She's so, so fancy, and she's so flashy with the chrome and the dark chestnut. I've been accumulating a lot of mares recently, so I thought she would fit right in!"
For the win, Robinson received a Riderzon gift certificate, a Blenheim picture frame and a tack room pillow, courtesy of Nick Byassee of Equestrian Design LLC. For Malaiha's owner, a Topline Design Ribbon Wreaths picture frame and gift certificate, a $300 Mary's Tack and Feed gift certificate and a Blenheim Equisports coolerette were also presented. 
This year marks the second consecutive time that Robinson has won the Young Hunter Championship, and she is a strong proponent of both the championship and the Young Hunter series.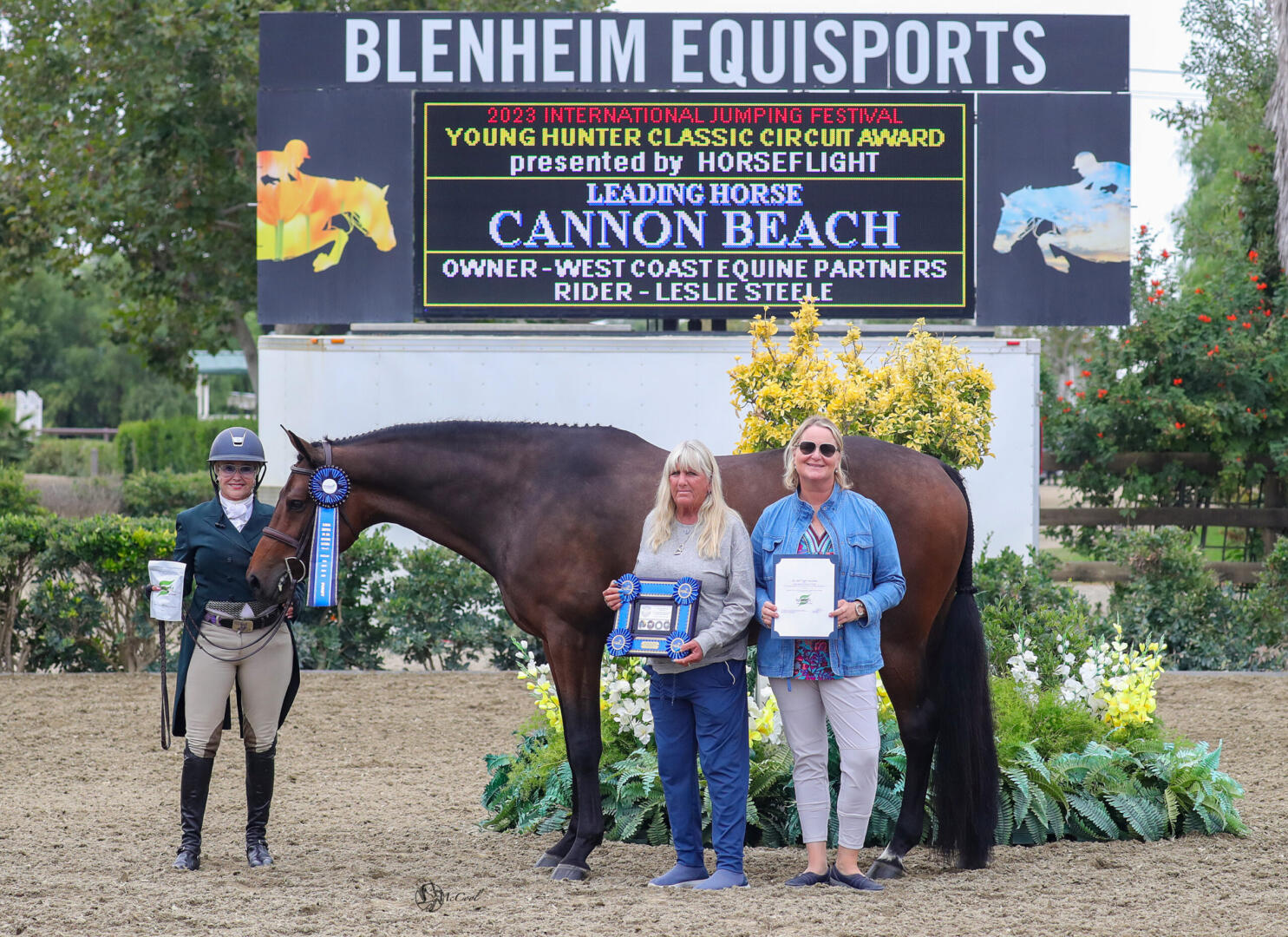 Cannon Beach, ridden by Leslie Steele and owned by West Coast Equine Partners, was presented with the Horseflight Young Hunter Circuit Award. Photo by McCool Photography
"Kingston is a great testament to this class," said Robinson of the horse she rode to the championship win in 2022. "He went on to do Devon this year and Upperville, where he was second in the big derby there. He's gone on to have a great career already only as an 8-year-old. He grew up doing the Young Hunter divisions here at Blenheim. It's a really affordable, nice way to keep developing the horse. Kingston's a really nice prototype for what the format and the Young Hunter division can produce. I'm always a really big fan of supporting that because that's a lot of what my business is built around – bringing up younger horses and making them really special later on." 
Also receiving special recognition on Thursday morning were Leslie Steele, Cannon Beach and Cannon Beach's owners, West Coast Equine Partners LLC.
Cannon Beach earned the most points in the Mary's Tack & Feed Young Hunter Classics held throughout the season, which in turn earned the 6-year-old Danish Warmblood gelding the Horseflight Young Hunter Circuit Award.
With Steele in the irons, Cannon Beach earned a total of 40 points, including winning back-to-back Young Hunter Classics during the June Classic 2 and June Classic 3. The gelding's consistent performances were rewarded with a $2,500 Horseflight travel voucher, presented prior to the start of Thursday's championship. Steele and Cannon Beach then went on to also finish fourth with an average score of 86.75 in the championship. 
To view the full Horseflight Young Hunter Circuit Award standings, click here.
For full results of the $10,000 Blenheim Young Hunter Championship, visit Blenheim.Showgroundslive.com.