Greenley Achuck Grabs USHJA 3'3″ Hunter Seat Medal Final – West Win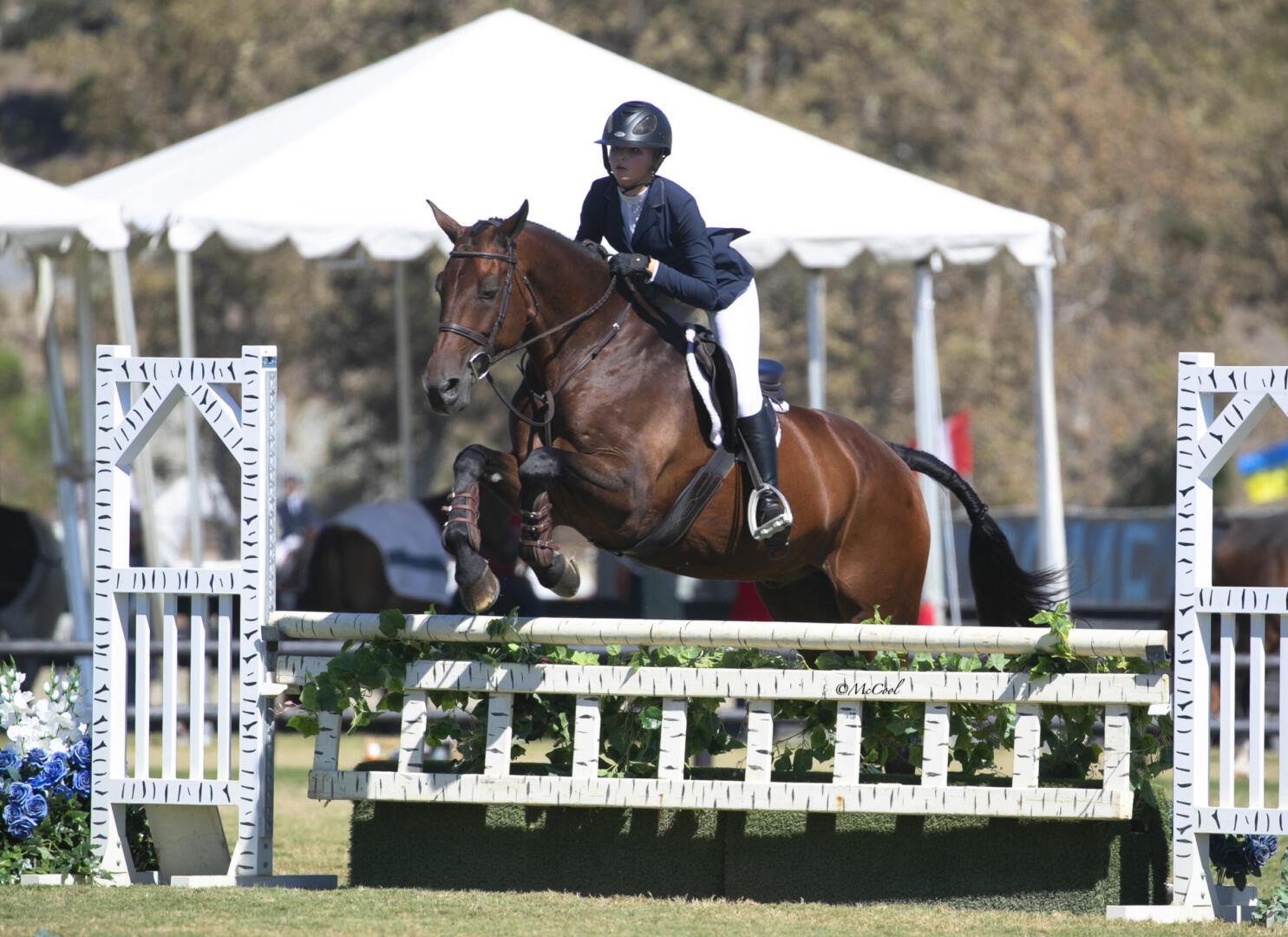 San Juan Capistrano, CA – September 27, 2022 –The West Coast kicked off an array of USHJA equitation finals at Blenheim Equisports' International Jumping Festival, including the first of two USHJA 3'3″ Hunter Seat Medal Finals. Taking the win in the West competition was Greenley Achuck, who grabbed the champion honors aboard Son House. Finishing in reserve was Lillian Muzzy with Baldeur, and rounding out the top three was Sofia Brocca-Jacobs with Romanee Conti.
Twenty-seven riders contested the USHJA 3'3″ Hunter Seat Medal Final – West, competing over two rounds designed by Scott Starnes and full of Hunter-style fences. At the conclusion of the second round, Brocca-Jacobs sat in first with Samantha Gastelum's Romanee Conti. The Long Beach, California rider's scores of 87 and 86 gave her a two-round total of 173 and the top spot heading into the work-off, where judges Jim Toon and Joe Dotoli chose to test the top four.
Achuck, of Tiburon, California, and her own Son House stood right on Brocca-Jacobs' heels after garnering an 88 in the second round to add to her first round score of 83. Grace Russo, of Los Angeles, California, held steady in third over the first two courses aboard Lindsay Maxwell's Diplomat, earning a two-round score of 170. Wrapping up the top four before the final round was Muzzy and MD Farms LLC's Baldeur. The Coto de Caza, California, rider's second round scores of 86 moved her up two spots, putting her into the testing phase to decide final placings with a 168.
Riding in reverse order, the top four's test included counter cantering a fence, halt and a turn on the haunches to jump a fence in both directions. Achuck, the penultimate rider to challenge the judges' test, closed the gap between her and the top spot, grabbing the win and the champion title. Jumping up another two spots into second was Muzzy, who put in an expertly executed test to earn the reserve champion tricolor. Brocca-Jacobs collected third and Russo finished in fourth.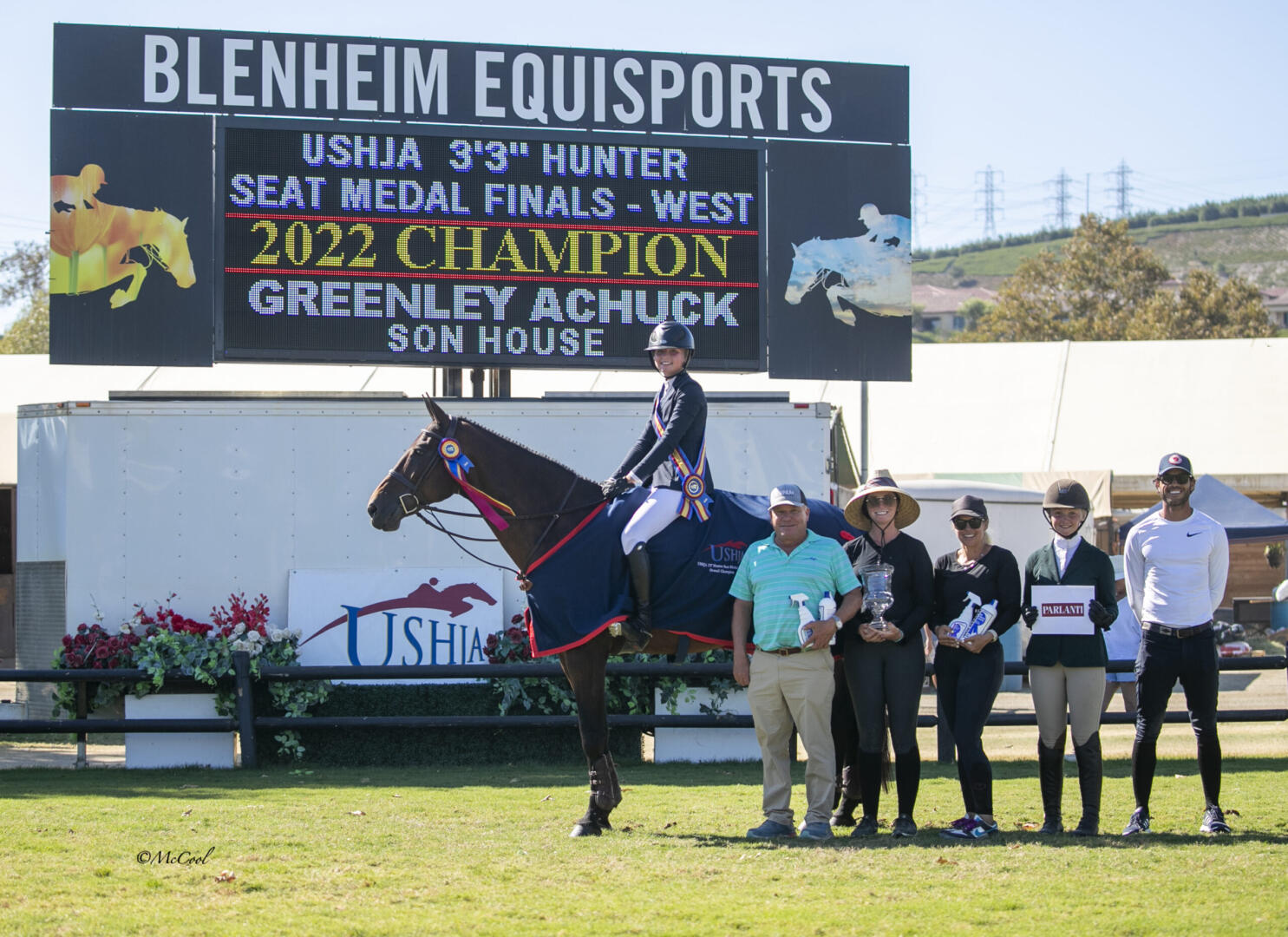 "It's awesome. I still can't believe it! It's amazing," said Achuck of her win. "Both rounds I think were a little bit more Hunter-y and flowy. I think that's what the judges were looking for; a nice Hunter flow. In each round, I kind of just wanted to go in and keep one pace, one canter, all the way around throughout the course and keep it even."
A newer pair, Achuck and Son House had only been a team for a few weeks when they stepped into the ring for the Final, but they intend to do the same next week at the EMO Insurance/USHJA 3'3″ Jumping Seat Medal Final – East under the tutelage of Chestnut Hill LLC's Beverly Jovais and Elvenstar Farms' Jim Hagman.
"His barn name is Captain. He's a 9-year-old Hanoverian, and we just got him about six weeks ago. He's just awesome. I mean he's been so good to me. I've had a few ups and downs with him so far, but I think we've clicked just this week. It's really starting to become a great partnership, and he's been taking care of me throughout the whole process," she said.
"I currently ride with Chestnut Hill and Beverly Jovais, but I've been showing with Elvenstar and Jim Hagman and I'll go back East with him which is really exciting. They've been awesome support, especially when I'm out in the ring," she continued.
The USHJA 3'3" Hunter Seat Medal serves as a stepping stone for equitation riders, providing an opportunity to qualify and compete in a national equitation final at fence heights of 3'3". The Medal is open to Junior riders, who have not competed in any of the following National Equitation Finals with fences at 3'6" within the same competition year, including USHJA Gladstone Cup Equitation Classic, ASPCA Maclay Finals, USEF Hunter Seat Medal Finals, USEF Show Jumping Talent Search Finals (East or West), WIHS Equitation Classic Finals, Jump Canada Medal Finals or the North American Equitation Championship.
The USHJA extends special thanks to the Blenheim Equisports team for hosting the event, as well as Official Sponsors CWD, Exhibitor's, Nutrena, Parlanti and Rood & Riddle Equine Hospital; and Awards Sponsors Charles Owen and Essex Classics.
To learn more about the USHJA 3'3″ Hunter Seat Medal, visit ushja.org/HunterSeatMedal.