Grayson Pacelli Placed on Top in USHJA 3'3″ Hunter Seat Medal Final – West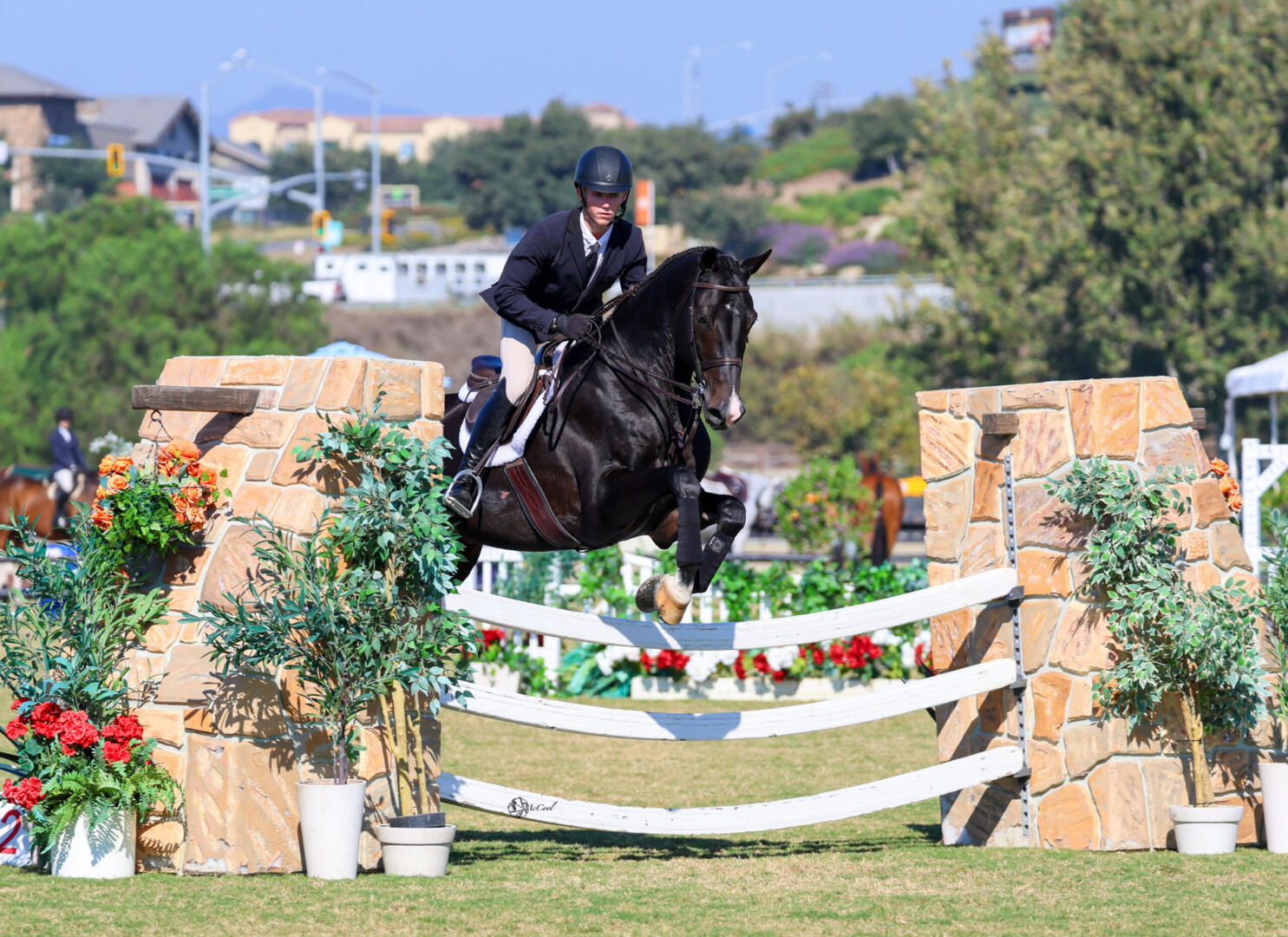 San Juan Capistrano, CA – September 27, 2023 – Thirty riders contested the USHJA 3'3″ Hunter Seat Medal Final – West, competing over two rounds designed by Scott Starnes. Grayson Pacelli of Encinitas, California, and HD Horses LLC's HD Washington quickly rose to the top after garnering a First Round score of 89 and stayed there to take the win.
At the conclusion of the Second Round, after seeing the top 25 riders return, Pacelli held on strong to his lead with a score of 90. The pair's two-round total of 179 put them eight points ahead of Molly Copeland, of Clyde Hill, Washington, who was sitting on an overall score of 171 aboard her own Crispy's Crown Boy. Judges Dale Peterson and Steve Walland then chose to call back the top four riders for testing. Zinnia Ryder, of Medina, Washington, riding her own DaVinci and Alana Salaiz, of Irvine, California, with Ilan Ferder's Quax joined Pacelli and Copeland in the work off.
"I was pretty nervous going in eight points ahead," Pacelli said on his thoughts going into the test. "Going into every round, my goal is always to try to come in with a blank slate and not get caught up on my previous round and just ride in the moment."
The work-off included technical rider questions with a trot fence, bending lines, counter canter and sitting trot. There was no shuffling of the leaderboard and the results ended with Pacelli leading through to the end, with Copeland taking reserve honors and Ryder collecting third.
"I loved the courses because I felt like they gave you lots of options as to whether you wanted to take inside turns, go around or the number [of strides] that you wanted to do," Pacelli said of the Final's courses. "The work-off course having the options with the inside turn, [you could choose] whether you wanted to land the counter lead or swap to the counter lead. The courses were done well."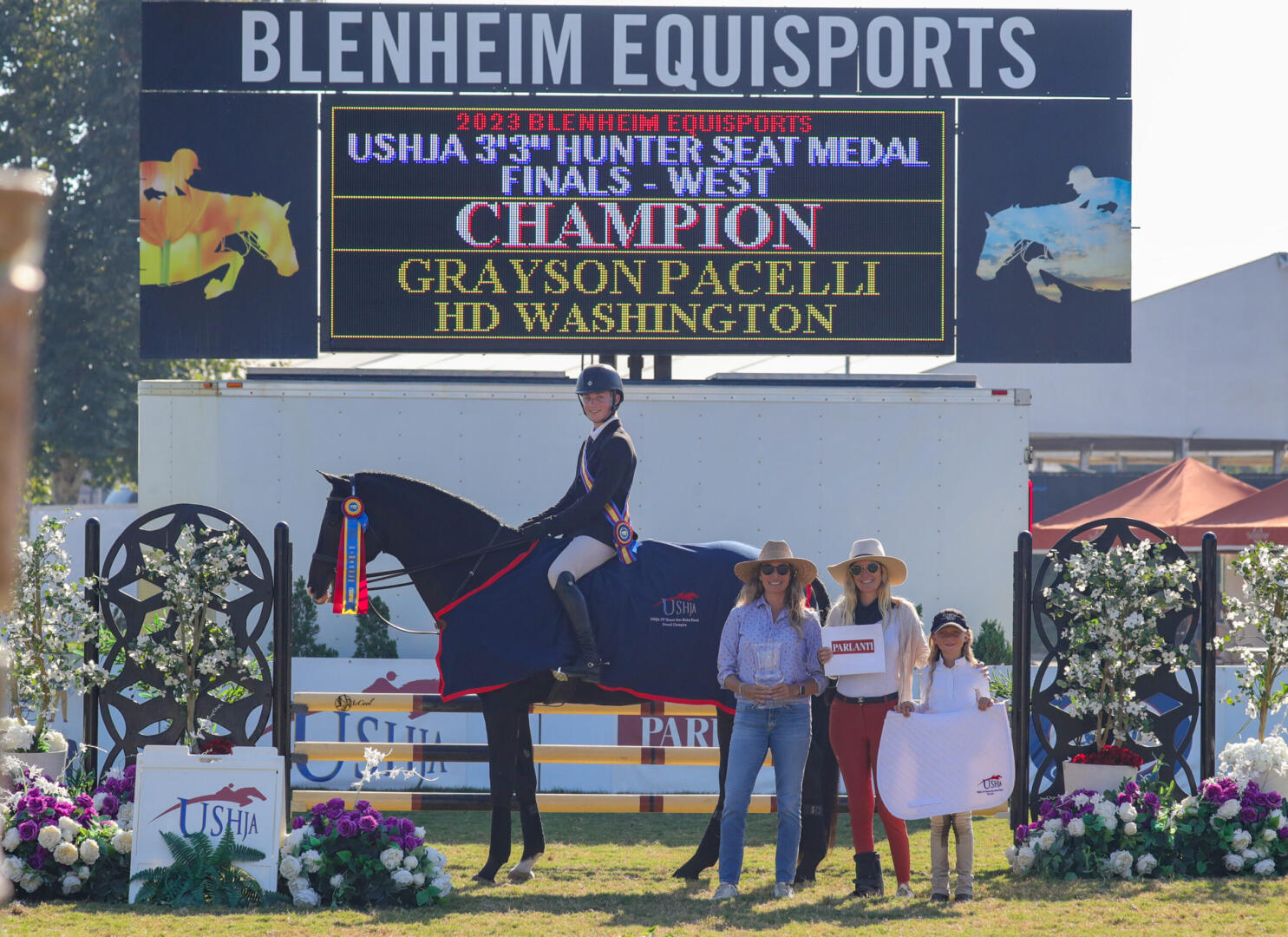 HD Washington is no stranger to the atmosphere of USHJA's 3'3″ Equitation offerings, taking reserve in the 2022 USHJA 3'3" Jumping Seat Medal Final – West with Isabella Holway. A couple of months after the 2022 Finals, Pacelli and HD Washington started their partnership together under the watchful eye of trainer Alicia Saxton, of Encinitas, California, with Oceancrest Farms.
"This win was so exciting," he continued. "I wasn't really expecting it as it was my first ever Hunter Seat Medal, so I didn't have much of an expectation going in. It was just so much fun—just such a great experience!"
The USHJA 3'3" Hunter Seat Medal serves as a stepping stone for equitation riders, providing an opportunity to qualify and compete in a national equitation final at fence heights of 3'3". The Medal is open to Junior riders, who have not competed in any of the following National Equitation Finals with fences at 3'6" within the same competition year, including USHJA Gladstone Cup Equitation Classic, ASPCA Maclay Finals, USEF Hunter Seat Medal Finals, USEF Show Jumping Talent Search Finals (East or West), WIHS Equitation Classic Finals, Jump Canada Medal Finals or the North American Equitation Championship.