Joie Gatlin Gets the Win in $50,000 Blenheim International Jumping Festival Grand Prix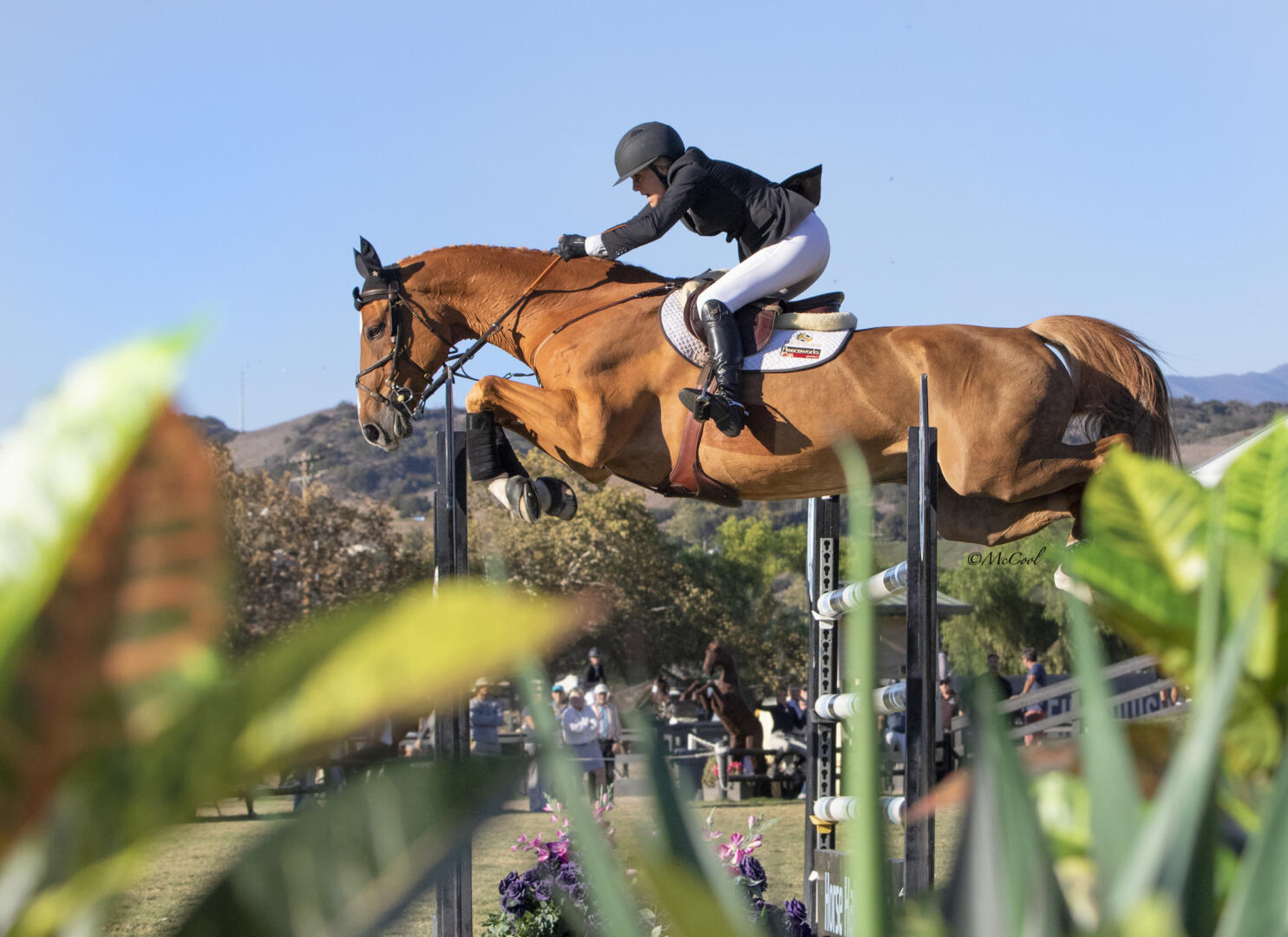 San Juan Capistrano, CA – September 24, 2022 – Joie Gatlin rode Uccello de Will to victory in the $50,000 Blenheim International Jumping Festival 1.50m Grand Prix on Saturday, September 24, marking an exciting finale to 2022 grand prix competition at The Riding Park in San Juan Capistrano, CA.
Renowned course designer Anthony D'Ambrosio set a challenging track in the Oaks International Grand Prix Field for the featured class, and ultimately, only three entries from the 13-horse starting field successfully navigated it without fault. The tough questions then continued in the jump-off. 
Ireland's Mark Kinsella was the first to return aboard Quality H, but a runout at the final fence would leave him with four jumping and four time faults for the eventual third-place finish on eight faults in a time of 55.296 seconds. Tina Yates and Ivaludine S were the next to return, and as two rails fell for a final score of eight faults in 39.885 seconds, they left the door open for Gatlin.  
With a refusal early on in the short course, the crowd at the Rancho Mission Viejo Riding Park was on the edge of their seat to see if Gatlin would still be able to get the win. As she and Uccello de Will crossed the final sunflower oxer without further fault, she successfully secured the victory with four faults in a time of 47.962 seconds.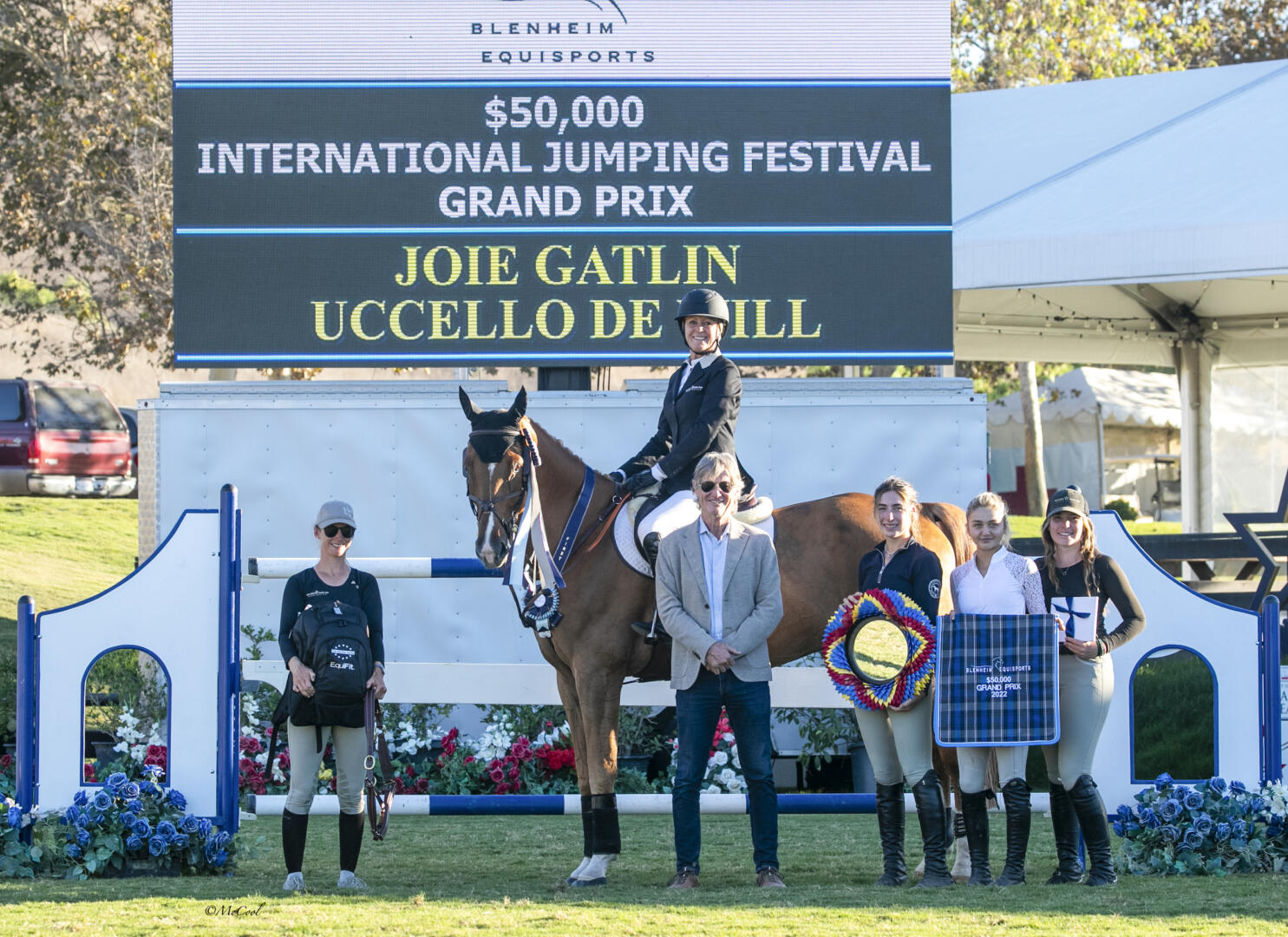 Joie Gatlin and Uccello de Will were named the final grand prix winners of the 2022 Blenheim EquiSports season. Photo by McCool Photography
"It's always nice to jump Anthony's courses," said Gatlin. "He makes you ride better. He makes you think. He makes the horses have to be rideable, and he makes you have to step up." 
Gatlin has been partnered with her winning mount, Uccello de Will, since January when she acquired the ride on the 14-year-old gelding for owner Darragh Kenny of Oakland Ventures LLC. 
"Uccello has probably been around the world more than I have," said Gatlin. "He jumped in Europe. He's jumped at the biggest horse shows, the biggest five stars. I was fortunate enough to get the ride from Darragh Kenny, and he and I have been really hitting it off this year since the summer. He's a big scopey horse, and he's got a lot of character which he showed me today. He tries really hard for me. I really love him."  
For the win, Gatlin was presented with a Blenheim EquiSports coolerette, a Top Line Design Ribbon Wreaths gift certificate and picture frame and an $80 gift certificate from Riderzon. 
The win in Saturday's class came amidst a string of success at Blenheim EquiSports for Gatlin, who also finished first in the $10,000 Markel Insurance 1.35m Speed Stake on September 15 aboard Fiona and first with Koddac van het Indihof in the $5,000 1.40m Jumper Classic held on Thursday, September 22. 
"It's been nice to be on a home-field advantage so to speak!" conclude Gatlin, who hails from Blenheim EquiSports' hometown of San Juan Capistrano, CA. "Last week was super with the little mare, Fiona, and this week with Koddac van het Indihof in the 1.40m and today with Uccelo was great."   
For full results of the $50,000 Blenheim International Jumping Festival 1.50m Grand Prix, click here.
Show jumping competition continues when Blenheim EquiSports hosts the Las Vegas National Horse Show, November 14-20, at the South Point Hotel, Casino & Spa. The year-end horse show features the $150,000 Longines FEI Jumping World CupTM Las Vegas, the Marshall & Sterling Insurance/U.S. Hunter Jumper Association National Championships and much more. Find additional information by visiting TheLasVegasNational.com, and learn more about all Blenheim EquiSports events by visiting ThePlaceToJump.com.