Anne Sherwood Shines In Inaugural USHJA 3'3" Adult Jumping Seat Medal Finals – West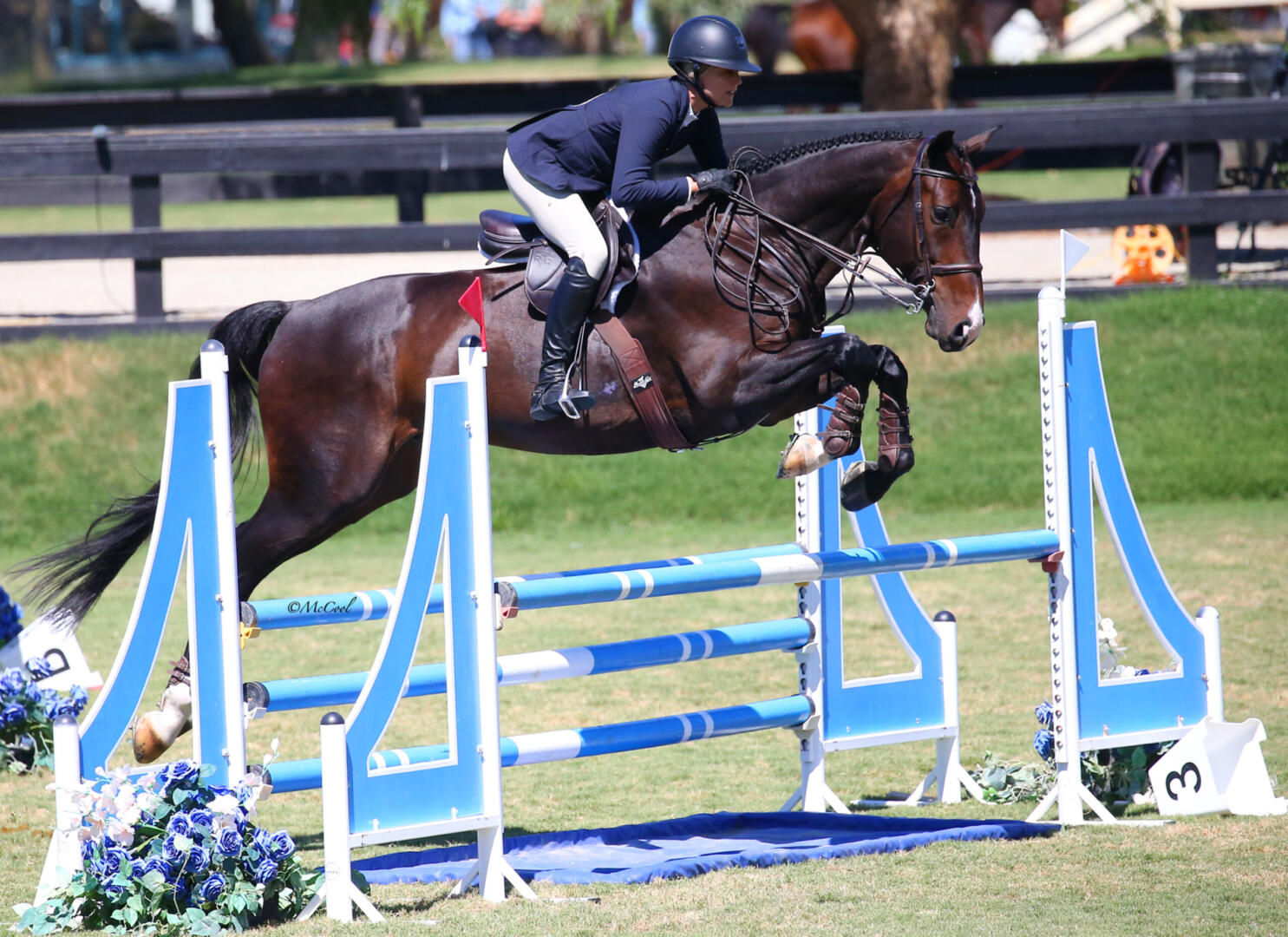 San Juan Capistrano, CA – September 28, 2022 – Anne Sherwood saw a lifelong dream realized on Saturday, September 24, as she led the victory gallop for the inaugural USHJA 3'3" Adult Jumping Seat Medal Final – West at Blenheim EquiSports in San Juan Capistrano, California. Finishing as the reserve champion behind Sherwood and her winning mount, Confidential, was Rebecca Beall of Honolulu, Hawaii, with Calino G, and rounding out the top three were Blake Lindsley of Los Angeles, California, and Twizzler.
"It feels amazing to have won," said Sherwood, 52, of Bozeman, Montana. "It was such an incredible group of women, and to be on top made me so proud. I would have been happy to just have been in the top 12 with such a strong caliber of riders."
Sherwood was one of 20 riders who took on the three-round format final, which was offered for Adult Amateur competitors for the first time this season and is formatted similarly to the Platinum Performance/USEF Show Jumping Talent Search, with phases for flat, gymnastics and jumping.
With that Flat Phase held first on Friday, September 23, Sherwood took over the top of the leaderboard early with a score of 86. Sitting in second place with a score of 84.5 was Laura Owens on Scirocco 91, while Mia Jones and Kravitz sat in a close third place on a score of 84.
Following the Flat Phase, riders moved to the spacious grass Oaks International Grand Prix Field for a challenging gymnastics course set by course designer Anthony D'Ambrosio. The top call in the Gymnastics Phase went to Lindsley with a score of 88, while Sherwood remained well within winning contention with a score of 81 and a seventh-place finish in the phase.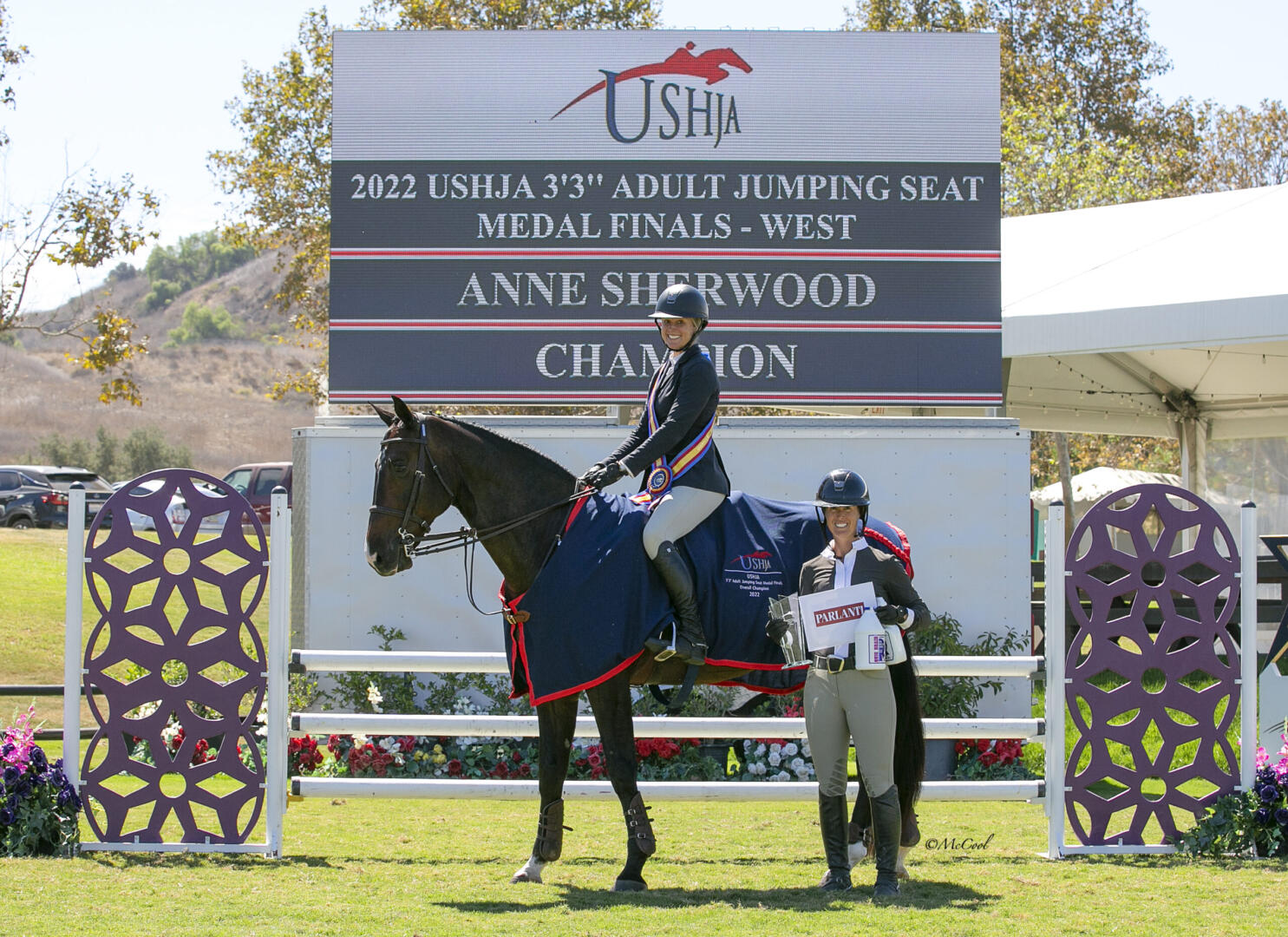 "That was my very first gymnastics round ever," said Sherwood, who trains with Michelle Morris and Melissa Jones at The Clearing in Lake View Terrace, California. "I never did the Talent Search as a junior; I never made it that far. I know this is a simpler version, but it's so nice to have an opportunity to be able to do something like a gymnastics round in a medal finals setting. It's just an incredible experience."
With the gymnastics round under their belts, the top 15 competitors returned on Saturday to jump a 14-fence course, also designed by D'Ambrosio. Sherwood topped the Jumping Phase with a score of 84, and Beall finished in second with a score of 82.5, which put her on top of the overall leaderboard—but the Medal Final was not over yet.
With less than three points separating Sherwood and Beall, the two riders returned for an eight-fence jump-off round, and it was Sherwood who clinched the win.
"[Rebecca Beall] is 19, and she's an awesome rider," said Sherwood, who was called back in second place for the jump-off. "We both went for the jump-off, and we both had three-second time faults. I thought, 'It's a toss-up, and I don't care because if I'm second behind her, I'm so proud!'"
Sherwood continued, "I remember that feeling of, 'I only have until I'm 18, and then it's all over.' We don't have that anymore because now we have such amazing Amateur classes and amazing Amateur Equitation. I'm really grateful to USHJA for adding the Adults because I had always envied the Juniors doing it. I'm just now chasing this unfinished dream from my Junior years, and thanks to Blenheim and USHJA, I can feel like I'm doing it. I get to compete in these amazing classes that are very competitive. There are a great group of Amateurs right now on the West Coast—really, really strong riders. That makes it really fun."
Earning the title of the Best Equitation Horse was Beall's winning mount Calino G.
The USHJA 3'3" Adult Jumping Seat Medal is a three-round class over two days of competition that allows Adult Amateurs to showcase their Equitation skills in a Jumper style. This includes a Flat Round, a Gymnastics Round, and a Jumper-style course. The USHJA 3'3" Adult Jumping Seat Medal is open to any Adult Amateur riders 18 and over who have not jumped 1.30m or above within the previous four competition years or has competed not in a 3* USEF Show Jumping Talent Search class in the same competition year. Riders qualify for the Finals hosted on either coast by earning points during the qualifying period and may choose to compete at either location.
The USHJA extends special thanks to the Blenheim Equisports and The Kentucky National teams for hosting the Finals and to Official Sponsors Exhibitor's, CWD, Nutrena, Parlanti and Rood & Riddle Equine Hospital; and Awards Sponsors Essex Classics.
For more information about the USHJA 3'3" Adult Jumping Seat Medal Finals, visit ushja.com/jumpingseatmedal.