Irene Neuwirth and Katie Taylor Davidson Capture CPHA West Coast Green Hunter Incentive Championship Titles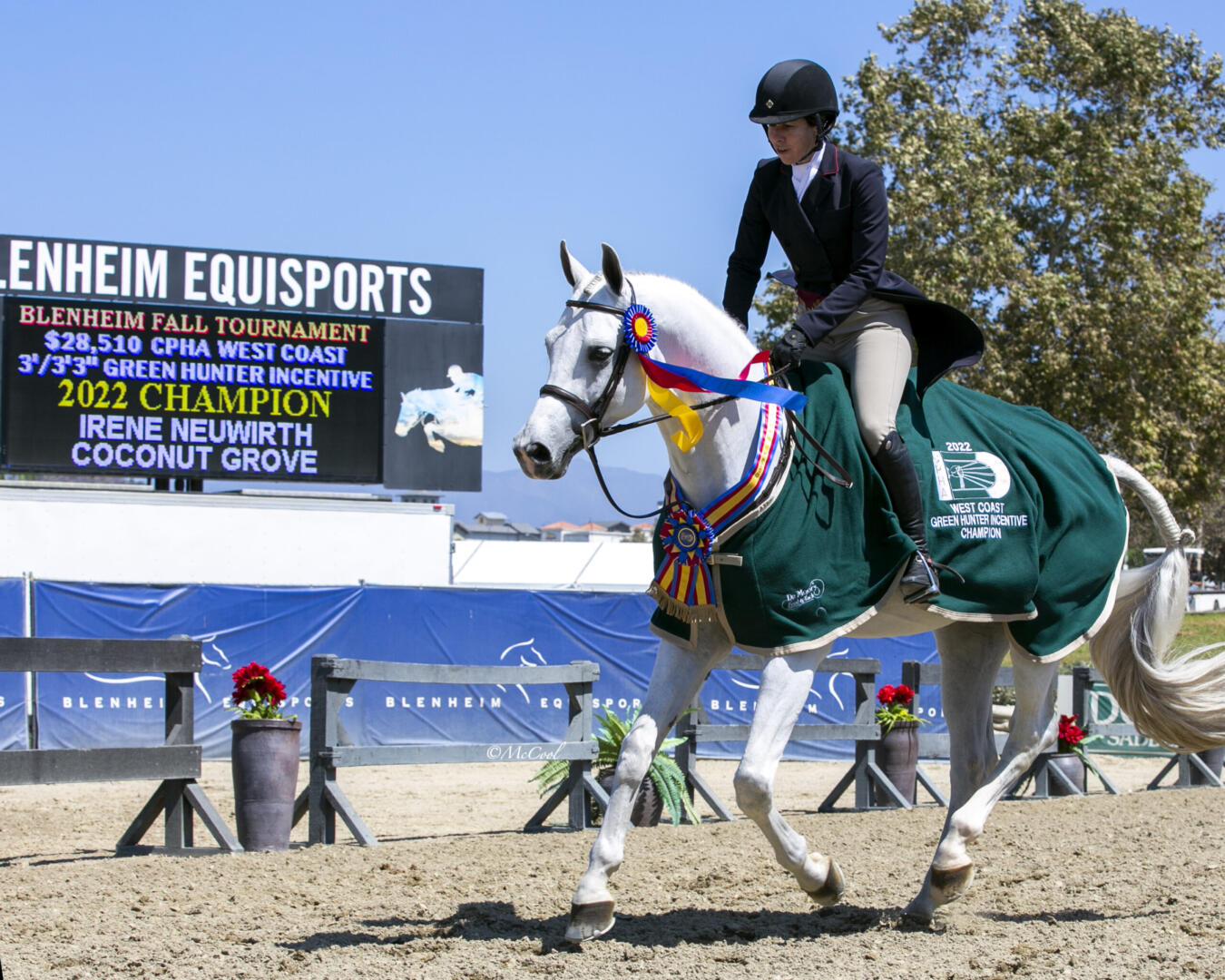 Irene Neuwirth and Coconut Grove led the victory gallop for the $28,510 CPHA West Coast 3'/3'3″ Green Hunter Incentive Championship. Photo by McCool Photography
San Juan Capistrano, CA – September 16, 2022 – The California Professional Horsemen's Association West Coast Green Hunter Incentive Championships offered nearly $45,000 in prize money, and at the end of competition on Friday, September 16, at Blenheim EquiSports, it was Irene Neuwirth and Katie Taylor Davidson who rode away with the lion's share. 
Neuwirth and her own Coconut Grove topped the $28,510 CPHA 3'/3'3" Green Hunter Incentive Championship, while Davidson and Princeton, owned by Walkenbach Equestrian LLC, earned the win in the $16,435 CPHA 3'6"/3'9" Green Hunter Incentive Championship.
This year, 82 horses were enrolled in the annual CPHA Green Hunter Incentive Program, and 90 percent of each enrollment fee was added directly to the $25,000 prize money, provided by Blenheim EquiSports, for the culminating championships.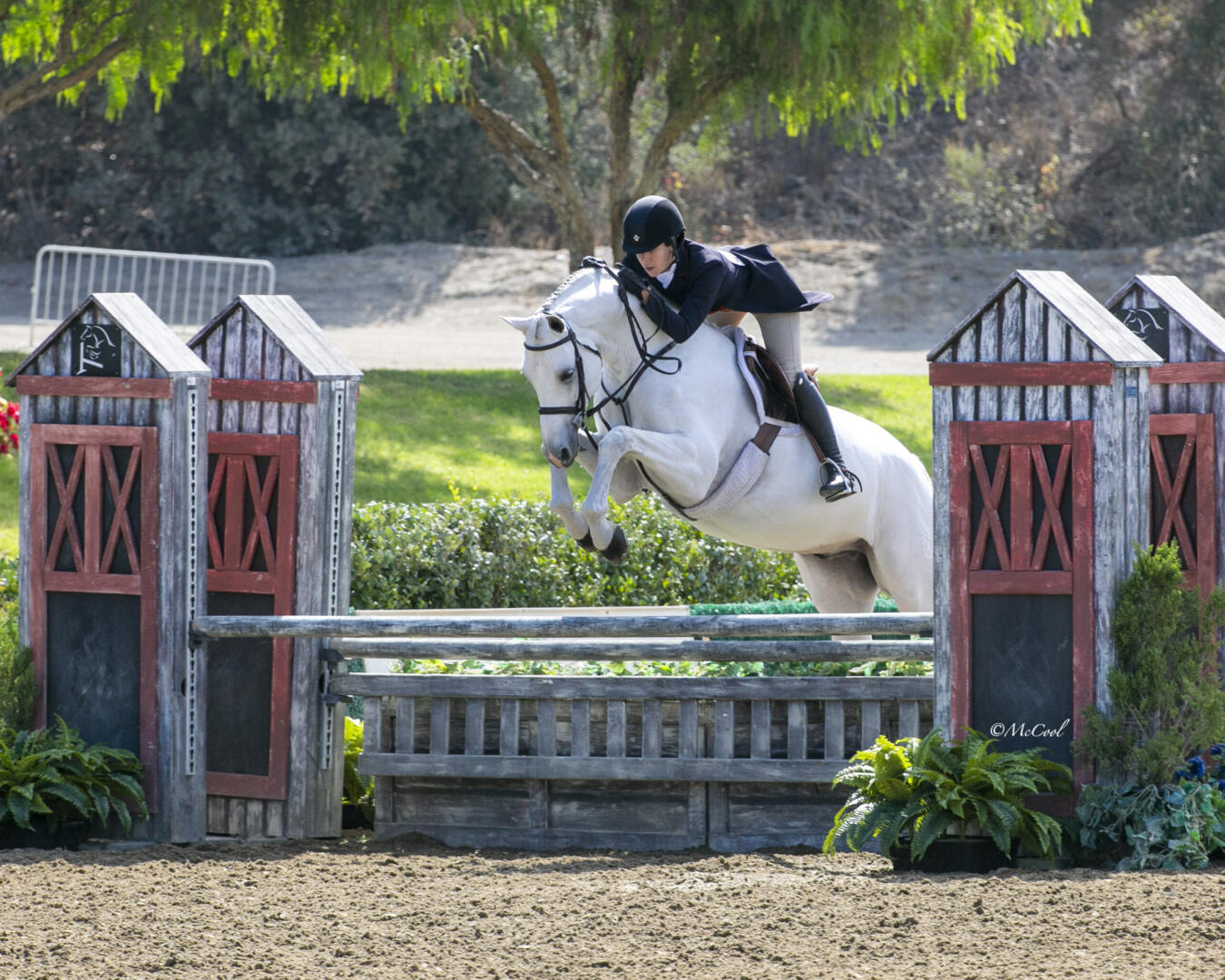 "It's really wonderful," said Neuwirth of the Green Hunter Incentive Championships. "I think it's a really fun time to let the green horses shine." 
Neuwirth and Coconut Grove were one of 16 entries to take on the 3'/3'3" Championship, and consistent scores of 88 in both the first and second round gave them the win. Second place with a first-round score of 84.75 and a second-round score of 89 for an 86.875 average went to Davidson and In Boca al Lupo, owned by Mare Eyfee LLC. Finishing in third place were Gabriela Pattinson and Quintessa WSS, owned by Nicole Lean.             
"For me, it's really fun to have a different type of class to compete in," explained Neuwirth, who trains with John Bragg at Bridgeport Farms. "I feel like a little kid in that sense because it was with all professionals, and I was the only amateur. So, it just feels really exciting to compete against the best!"  
For Neuwirth, it was also exciting to earn the victory with her newest partner, as Coconut Grove was newly imported just six weeks ago.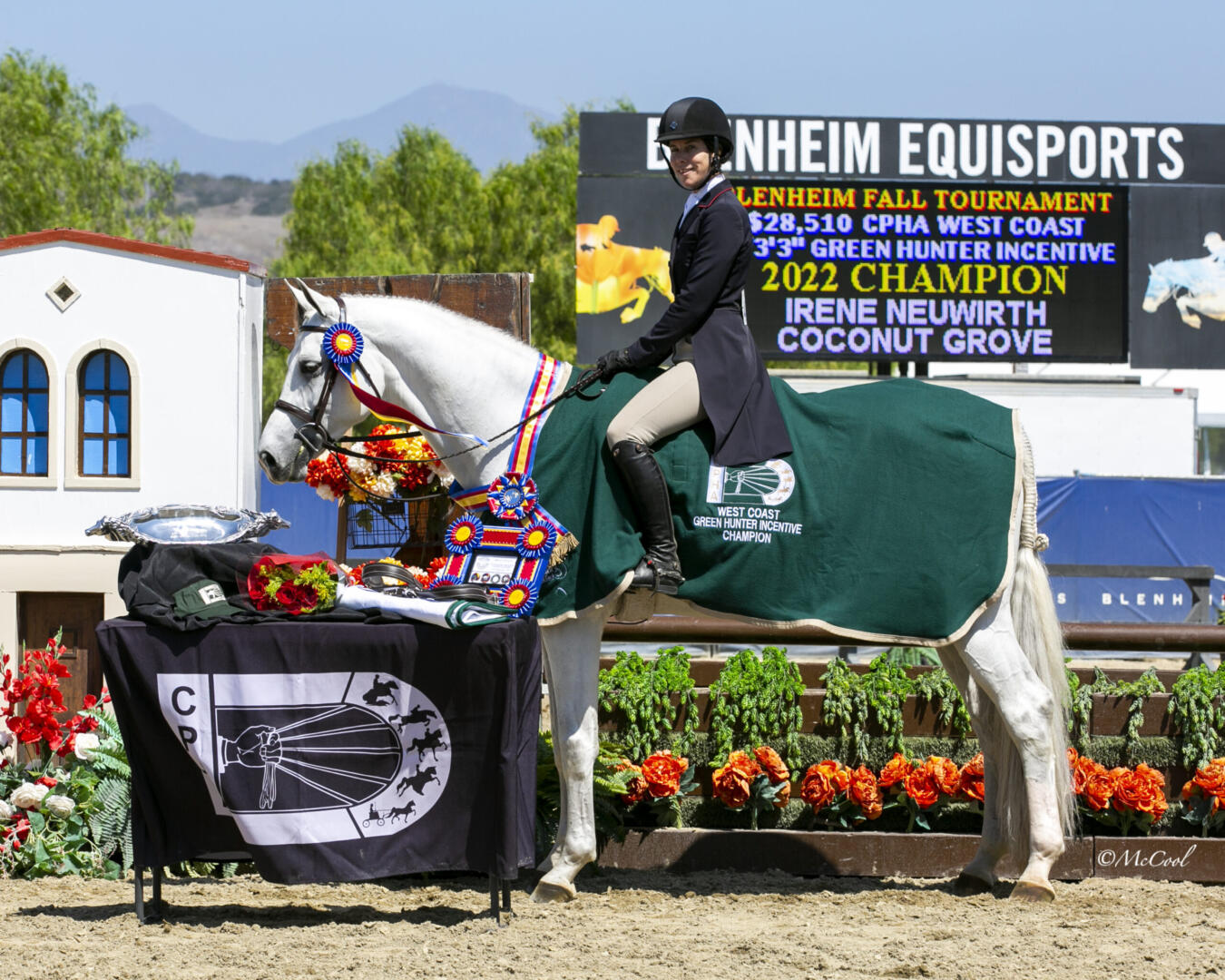 "He's just a really incredible, special guy," said Neuwirth of the 9-year-old grey Westphalian gelding. "He is the most gorgeous horse that like little girls dream of. He looks like a unicorn; he's sparkling white. He has just fallen really nicely into his job of being a hunter. He's so soft; he has just such a nice brain. He covers the ground so nicely, and he's just my type of ride. He kind of carries you a little bit and doesn't require a tremendous amount of leg. I'm thrilled!"
In the $16,435 CPHA 3'6"/3'9" Green Hunter Incentive Championship, it was a role reversal for Neuwirth and Davidson, with Neuwirth this time finishing second aboard Guess Who and Davidson earning the win with Princeton.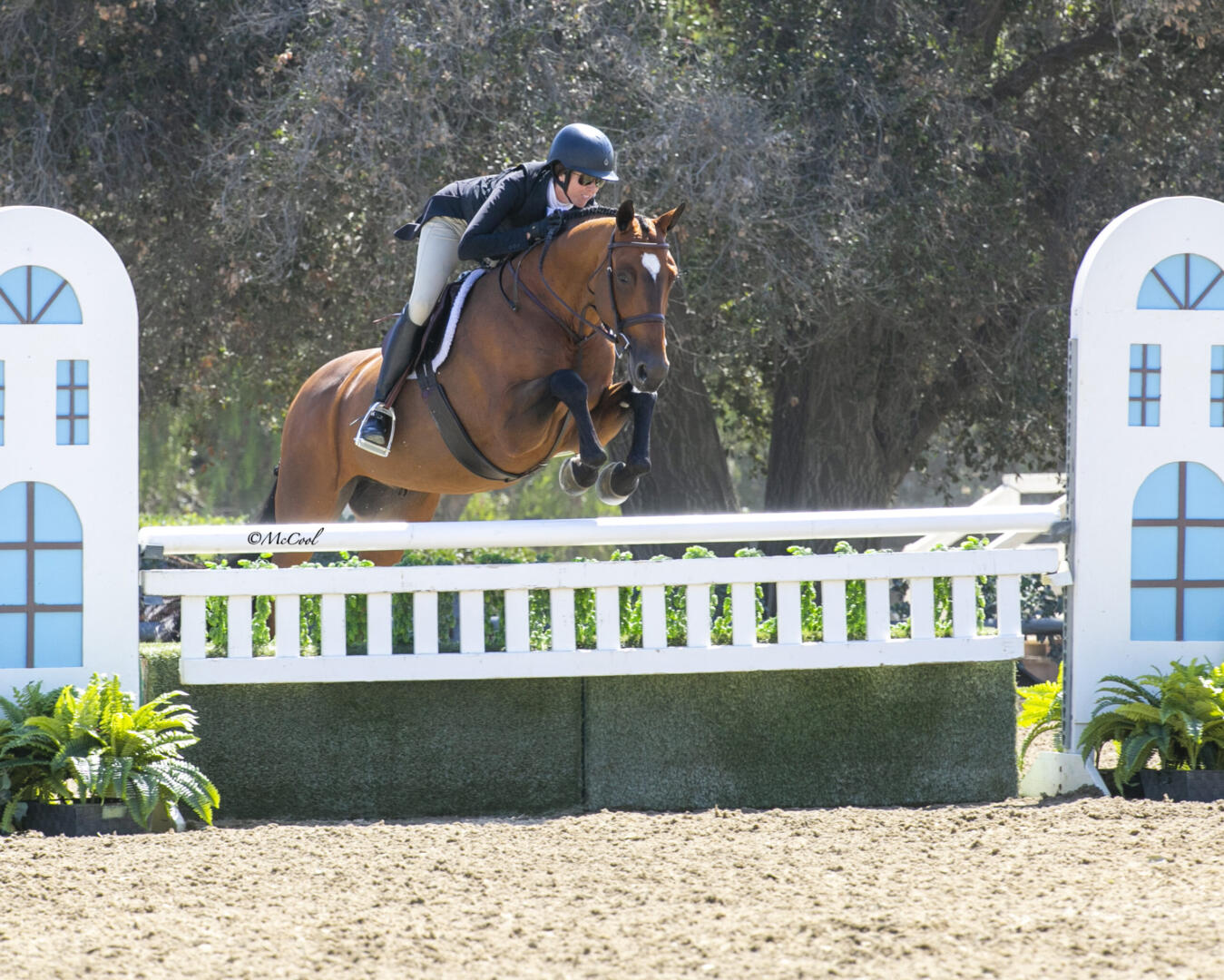 A score of 90 in the first round gave Davidson and the 9-year-old Selle Français gelding the lead by a three-point margin, and a second-round score of 86 for an 88 average clinched their victory. With Neuwirth and Guess Who claiming second with an average score of 87, third place on an average score of 85 went to Leslie Steele and No Reservations, owned by Curtis Holdings Inc.
"I love when CPHA puts on the shows!" said Davidson. "They really do such a great job, and they really make you feel special with great prizes."
Davidson picked up the ride on Princeton for owner Paige Walkenbach last fall and has continued to show the bay gelding in the professional divisions while Walkenbach also competes Princeton in the junior hunters.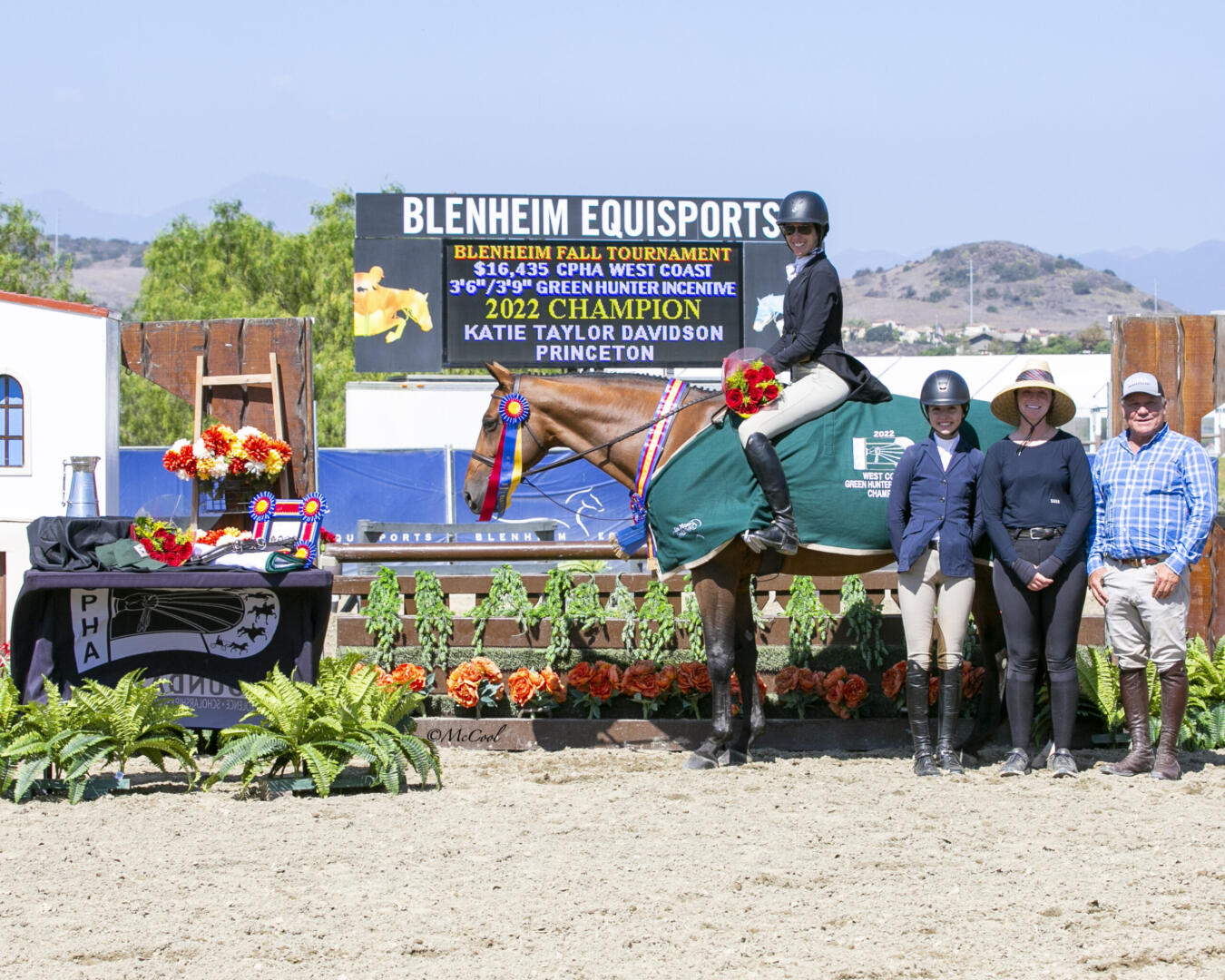 Katie Taylor Davidson and Princeton were presented as the winners of the $16,435 CPHA West Coast 3'6″/3'9″ Green Hunter Incentive Championship. Photo by McCool Photography
"I have to say a thank you to Elvenstar and the Walkenbachs for giving me a chance to ride him," said Davidson. "He's phenomenal. He has his own motor. He was a jumper; that's what they got him, and I think he was a jumper two years ago. So, they've just been working on him being more relaxed, and he's really come into his own. He gives you his all the time and has tons of scope, so you never feel like you're in trouble. It's a great feeling."
For their wins, Davidson and Walkenbach each received coolers from Da Moor's Tack & Feed, flowers, CPHA hats, sashes, CPHA keeper trophies and saddle pads. Blenheim EquiSports additionally presented each of them with $50 Topline Designs Ribbon Wreaths gift certificates, Topline Designs Ribbon Wreaths custom picture frames and Riviera EquiSports halters.
To learn more about the CPHA Green Hunter Incentive Championships, visit www.CPHA.org, and for full results of the CPHA West Coast Green Hunter Incentive Championships, head to blenheim.showgroundslive.com.